Give 'em Grapestains
We interrupt your emailing to bring you a special news bulletin. Crushpad has just added 5 more CrushCamps. Crushpad's Beaune born Charlotte Buisson-Dackow describes the CrushCamp phenomenon as (insert French accent), "Working alongside cellar hands and winemakers to sort, de-stem and crush grapes, punch down fermentations and taste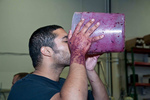 wines straight out of the fermentation bin. This is not a behind-the-plexiglass-window tour. It's the real deal." We now return you to your regularly scheduled emailing.
Crushcamps are offered each Wednesday through Sunday from 11am until 1pm through November 6th. Sessions are limited to 8 participants.
To check on availability, choose one of the links below or simply click on a date on our event calendar. (We even have 2 ghoulish spaces available for Halloween!)
Upcoming CrushCamps
Tasting Labs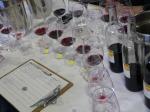 Lab coats aren't boring. At Tasting Labs, we Frankenstein wines to explore the roles of acidity, alcohol, oak, tannin and malolactic conversion. We also work in teams to identify aromatics of several wines we've altered by adding specially designed sniffing agents that react to your sniffer. Although your palate may suffer semi-permenant damage from these trials, we'll also make a valiant effort to taste amazing, undoctored wines as well. as we sharpen palates and tighten vocabulary by looking more closely at color, aromatics, flavor and body. Tasting Labs are fun, educational and provide the tools necessary to break a wine down to nuts, bolts and sub atomic particles.
To check on availability, simply click on a date on the calendar
Blending Sessions
If looking for an experience that is less stained-clothingcentric, we offer Wine Blending Sessions every Thursday, Friday and Saturday at 3pm. Using red Bordeaux varietals, this hands-on class begins by evaluating 5 base wines for aromatics, flavor and texture. After dissecting and deconstructing each wine to reveal its inner, inner, inner self, we'll take out the pipettes and graduated cylinders to create a several unique blends. Whether you are a collector of trophy bottles or a wine-curious novice, sharpen your palate and gain an intimate appreciation for why blending is considered the highest art-form in winemaking.
---
Napalais Nouveau (Tasting 2010s. Wait… 2010s? Yup!)
Although young and brash, these characters can be sweet. We're not referring to the cast of Glee; we're talking about the 2010 wines. Looking for a truly unique experience you won't find anywhere else? Our tasting room now features an opportunity to sample the freshest juice and youngest wines on the planet. Each day, we'll bring several white and red wines at various stages of the fermentation cycle into the tasting room. These wines and juices are literally hours or days old and will give you serious bragging rights as you Tweet/Facebook impressions of the current harvest to the folks back home.
Tasting Room appointments can be made by reaching out to Casey at casey@expressionwine.com or by phone at 707.226.8569 x 116.
That's it for now! Happy Harvesting and hope to see you soon.