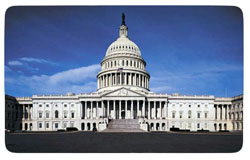 HR 5034: NOT GOING AWAY SOON
With more than 100 co-signers in Congress, House Resolution 5034 is pitting wineries, brewers, distillers, retailers and consumers against the supporters of the bill: the National Beer Wholesalers Association and Wine & Spirits Association of America. A hearing before the U.S. Judiciary Committee is now scheduled for July 14; stay tuned for more information.
What follows are some highlights on the HR 5034 issue in May and June:
Wine Lovers Keep up the Momentum: There are more of you engaged on this issue than even during the argument and ruling in Granholm v. Heald before the U.S. Supreme Court. Since April 20, wine lovers have personalized 37,000 letters through www.freethegrapes.org, encouraged by fellow wine lovers, wineries and winery associations, among others. The Napa Valley Vintners and Oregon Wine Board distributed flyers to consumers at Auction Napa Valley and Oregon's Memorial Day open house program.
Washington Attorney General Blasts WSWA: The WSWA's May 12 ad in Politico stated: "40 State Attorneys General and the State Alcohol Regulators Agree – the Time to Act is Now. Congress: Support Your State Alcohol Laws. Co-Sponsor H.R. 5034 – the CARE Act – Today! " But a May 17 letter from AG Rob McKenna to Wine Institute stated: "It has since come to my attention that some proponents of HR 5034 have suggested, both in direct meetings with Members of Congress and in advertising, that I support this legislation. Let me assure you that this is not correct." "My support of this National Association of Attorneys General sign-on letter is now being construed by some as support for HR 5034. This is false."
First Ever Joint Producer Letter Issued to Congress: The primary associations representing wineries, brewers and distillers in the U.S. issued a joint statement June 23 condemning HR5034, the first time, to our knowledge, that these three industry segments have coordinated a joint communication to Congress. See http://www.freethegrapes.org/sites/default/files/JPL%206.23.10.pdf
We will post updates to our Facebook page and News section on www.freethegrapes.org as they become available.
New Jersey: Favorable Bill Lives On
As previously, reported, Senate Bill 766 passed the Senate 29-5 in March, and the date for a hearing in the House is not finalized.
Massachusetts: Still Considering HB 317
Industry representatives continue to work with legislators on House Bill 317 (Torrisi) that would allow for winery shipments and removes the fleet licensing issue in the existing statute. The bill passed the Joint Committee on Consumer Protection and Professional Licensure on February 9 and is currently in the House Committee on Ways & Means Committee.
Delaware: Favorable Bill Killed in Committee
HB 180 was introduced by Representative Debbie Hudson last year and followed the "model" direct shipping bill used by most U.S. states. It was killed in committee in June.