UPDATE ON HR 5034
Hous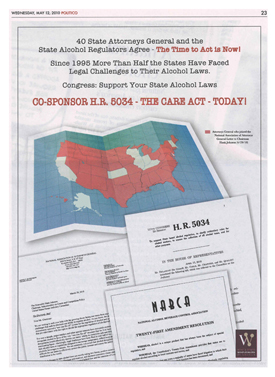 e of Representatives bill 5034, introduced by the National Beer Wholesalers Association (NBWA), is anticipated to be heard before the Judiciary Committee in June. A date has not yet been set.
The NBWA and the WSWA are lobbying aggressively on Capitol Hill. In fact, the WSWA took out a print ad on May 12 in Politico – a newspaper read by legislators and their staffs in Washington D.C. – which encourages legislators to co-sponsor HR 5034. As you know, the bill would exempt anti-competitive and discriminatory state alcohol beverage laws from most federal review, including capacity cap laws. It would turn back the clock on direct shipment laws.
What can you do about it?
Send a Letter to Congress: Since we posted information on April 20, wine lovers like you have personalized and sent 25,000 letters through www.freethegrapes.org to members of the House and Senate. That's nearly a letter every minute, and it will take you only a minute to send a letter through our website. This is an unprecedented showing of support for wine direct shipping at either the state or federal level.
---
Send a letter today to Congress at http://capwiz.com/freegrapes/issues/alert/?