SHIPPING: IMMEDIATELY
HOLIDAY GIFT BUNDLE & MAGNUM BOTTLES
The holiday gift bundle is an absolute hit this season! We only have about a dozen bundles left so now is the time to place an order.  The week of December 16th (next week) is our last week for shipping before the new year.  Engraved box ($318/tax) or standard cardboard box ($257/tax) – these both make lovely presents for family, friends, or colleagues.
The bundle includes: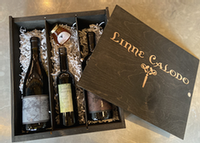 A 750ml bottle each of 2017 Sticks and Stones and 2017 Outsider
A jar of our Estate's Cash's Honey
A 375ml bottle of our Estate Olive Oil
Tasting certficate for 2 here at the winery.
---
Magnum bottles!  In this year's November 30th issue of Wine Spectator, Rising Tides was the holiday feast choice of New York restaurant Casa Lever's wine director Carrie Lyn Strong.  She says "the wine is soft, and beautiful and will sing an orchestral tune with any thankful feast." We agree and believe Rising Tides in magnum bottle is just as beautiful Can you think of a better way to host a dinner? Go big with 2017 Rising Tides or 2017 Outsider.

2017 Rising Tides, 1.5l mag,
64% Grenache, 28% Syrah, 8% Carignan
This wine is filled with fresh berries, cinnamon stick, and a salty sweet ocean breeze. Lively on the palate with fresh acidity and hints of cherry ribbon candy.  (120 bottled), $185/btl

2017 Outsider, 1.5l mag
75% Zinfandel, 20% Syrah, 5% Carignan
From the Whalebone Block of the Heaton Vineyard comes the Outsider. What a fabulous wine! Restrained decadence. There's an underlying shockwave of fresh raspberries and cream that evolves into boysenberry jam with graham cracker dust.   (90 bottled), $175/btl.
---
Call 805-227-0797 or sign-in to order, or call 805-227-0797, email.
---
Shipping will be asap.  Adult signature required.
For those sending orders as gifts, please let recipient know of delivery so that box is delivered and not returned to us! (office addresses preferred!)