H E L L O  M Y  F R I E N D S ,
I hope this email finds you well!  Amazing times that we are living in, that we will get through and be even stronger in the end. When the pandemic started, I went back to my very first days of starting Linne Calodo. I found myself a little lost but had a strong desire to keep busy.  Thus, I created a whole bunch of new projects and goals that had long been on the wish list but were difficult to achieve give the time restraints and the dedication necessary.  Sit back and enjoy a glass of Linne Calodo knowing that these wines come to you from a team that cares not so much about cool marketing, but about everything from the ground to your glass.
I'm super excited to share these very fun wines with you this go-around. I think you will find them very enjoyable, if not slightly heady.  I grow wine grapes, my job is to make them taste great.  These bottles represent my quest, as well as a short story of my neighborhood, the Willow Creek District.  Hang in there, and I look forward to the day we can have a huge party when we can commingle again.
C H E E R S ,
M A T T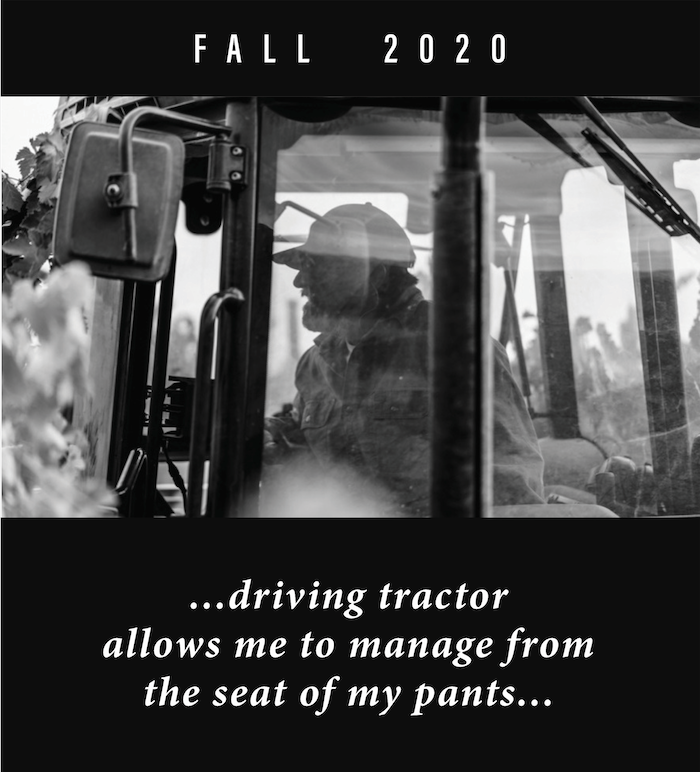 I ' m  d r i v i n g  t r a c t o r  a g a i n  a n d
h a v e  t h e  b e s t  s e a t  i n  t h e  v i n e y a rd .
Driving tractor is not just about mowing the vineyard or spraying sulfur to prevent mildew. The operation of driving up and down each vineyard road gives you a chance to see everything in a condensed period of time. Remember, there are times when you work in one part of the vineyard for two days and will only see the whole vineyard over the course of a few weeks or a month. Even with the quad motorcycles that we use, you only see a glimpse of the vineyard as you drive down the rows of each vineyard block before moving onto the hand-work that is required to make Linne Calodo wines. So driving tractor allows me to manage from the seat of my pants. I see general plant health, gopher hot-spots, and get a sense of having touched all the vines.  We are not looking for perfection. Instead, we are looking at being in tune with the vineyard and giving it what it needs from managing a cover crop to achieving extremely tasty grapes. After all, happy growers grow happy grapes, and happy grapes make the winemaker happy! This creates happy wine and, of course, the consumer of the wine is happy.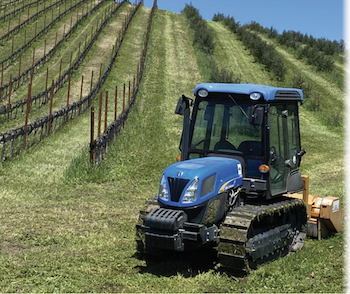 M Y  C H A R I O T
NEW HOLLAND
TK4050 CRAWLER
94 HP
8 speed
Closed Cab
Steepest slope that we farm is
+ – 40 degree slope.
W E ' R E  O P E N !
We are thrilled to be offering
outdoor tastings on our patio!
Appointments are limited,
so hurry and book yours here!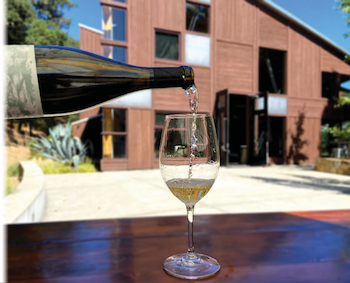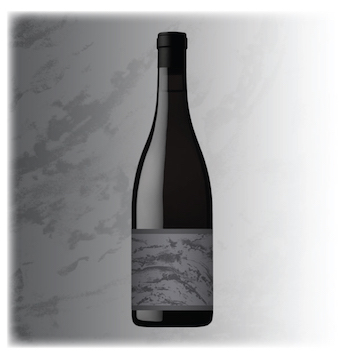 2 0 1 8  R I S I N G  T I D E S
69% GRENACHE, 28% SYRAH, 3% GRACIANO
This wine embodies the beauty that comes from cheerful and bright Grenache being buttrussed and grounded by a brooding, rich, and powerful Syrah. The aromatics offer a bramble of wild berries in an abandoned garden, wisteria and lilac growing all around them. Soft cooking spices waft through the mixture, with hints of cardamom and mulled cinammon. The first sip cannot help but make you smile as bright acid and grippy tannins bring flavors of black raspberry and cedar to life. The wine is full of excitement, but also mellow and smooth as it glides into a long and lingering finish.  Drink now through 2026.  $82/btl (your price $69.70; 2 btls in pack) / order
2 0 1 7  P E R F E C T I O N I S T
55% SYRAH, 37% GRENACHE, 4% MOURVEDRE, 4% GRACIANO
A scent that speaks of granite cooled by a mountain stream, slate right after a cloudburst. Hints of black tea and sage, warmed by the summer sun and the mild salinity of an ocean breeze. All underpinned by round fruit flavors of blueberry and fig. While it is easy to become lost in the umami of smoked meats, iron minerality, and olive tapenade flavors, this wine carries itself with such a graceful elegance that those notes are seamlessly intertwined with huckleberry and plum. The tannins creep slowly, capturing you before you even realize they have appeared and then releasing into the complex flavors that rest in your mouth and nose long after your sip is over. Drink now through 2030.  $82/btl (your price $69.70; 2 btls in pack) / order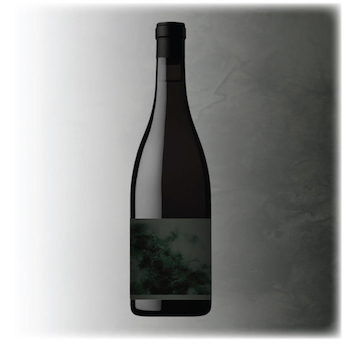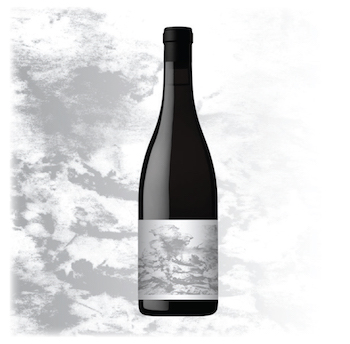 2017 IN MY DREAMS
38% GRENACHE, 37% TEMPRANILLO,
14% GRACIANO, 7% MOURVEDRE, 4% CARIGNAN
A striking, full-throttle wine built on intensity of dry-farmed Tempranillo and Grenache. Grilled ribeye that has been encased in warm spices like sumac and saffron. Blood oranges and peaches charred by the flames of an oak fire. The raw power of this blend races across your tongue to take hold in every crevice of your mouth. As the dark fruit and notes of meat begin to slowly drift away, the tannins take their time, with a dry and dusty grip that leads you reaching to take the ride again. Drink now through 2032. $82/btl (your price $69.70; 1 btl in pack) / order
2 0 1 8  O U T S I D E R
74% ZINFANDEL, 12% SYRAH, 14% GRACIANO
Espresso, baking chocolate and black cherry rise out of the glass as soon as this wine is poured. The flavors do not disappoint on the first sip as it gushes out inot your cheeks with pomengranate, dark chocolate-covered strawberries and cocoa nib. There is a weight to this wine, a grounded heaviness that feels comforting and reassuring – a warm zinfandel hug, an all encompassing embrace. Hints of iron and lead play with the chocolate, cherry, and espresso which stay from the first scent to the persistent finish. Drink now through 2028. $76/btl (your price $64.60; 1 btl in pack) / order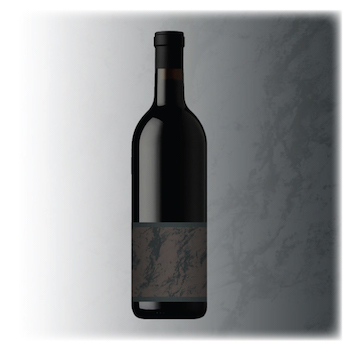 Y O U R   F A L L  P A C K  I S :
2 X 2018 RISING TIDES,  1 x 2018 OUTSIDER,
1 X 2017 IN MY DREAMS, AND   2 X 2017 PERFECTIONIST
Allocations not purchased early will be billed in early September.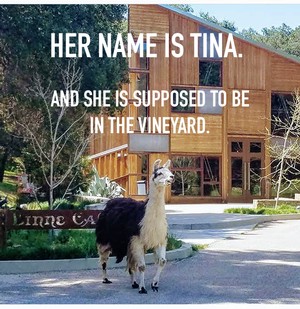 E A R L Y / A D D I T I O N A L
call:  (805) 227-0797
email: info@linnecalodo.com
online: linnecalodo.com (Allocations page)
S H I P P I N G
Fall allocations will ship as weather allows.
For many this means mid-to-late October.  For southern states, early-to-mid late November.
If you have a special ship-date request, please let us know ASAP.
Please keep in mind that all deliveries require person over 21 to receive the box.
If you would like to pick up your wine,
please call 805-227-0797 or email to schedule an appointment.