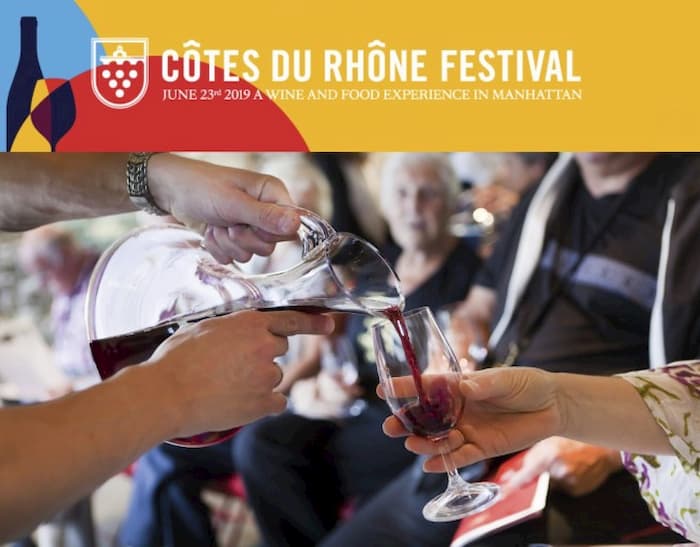 Our last deal sold out quickly, but we were able to secure 50 more tickets for our subscribers. Don't miss out.
Save 40% on VIP Admission
Deal Price: $48
Value: $80 — You Save $32!
Limited availability. Buy now.
Legendary Côtes du Rhône Festival – New York City
Sunday, June 23rd, 2019
5:15 PM for VIP entry; 6-8:30 PM General Admission
SECOND.
849 6th Ave | New York City, NY
---
Côtes du Rhône, France's beloved wine region will host an innovative culinary experience at Second Floor, a beautiful venue and open-air terrace located above 6th Avenue in Chelsea. The inaugural event will be held Sunday, June 23rd from 5:15 to 8:30pm and will transport attendees to South Eastern France with an unforgettable French wine bar and food experience. Guests can select between the all-inclusive General Admission and VIP (early entry) tickets. VIP Ticket holders and trade professionals are invited to attend a pair of masterclasses before doors open to public.
The French wine and gastronomy revival will highlight over 60 wines will be showcased throughout the festival from a seminar to the main tasting. These wines span the different styles of the Côtes du Rhône, highlighting the diversity and heritage of the area. Guests can explore them alongside a regionally inspired menu—featuring the flavors of lavender, truffles and olives—crafted by celebrated chefs.
Participating chefs include Tyler Atwell of Lafayette Grand Café and Kimberly Plafke of Grand Army, as well as artisan Baker Raymond Smith of Blacksmith's Breads, Salumi-Maker Drew Buzzio of Salumeria Biellese, Phillip Kirschen-Clark of The Milling Room, Jocelyn Guest & Erika Nakamura of J & E Smallgoods, David Robinson of Formaggio Kitchen, Eric Simpson of The East Pole, Joshua Smith (Boston), Mary Dumont (Boston), Mitch Willis and Garth Jobb of Hudson & Charles Dinette and Butcher Shop.
Participating sommeliers include Betsy Ross of L'avenue, Master Sommelier Fred Dex aka The Juiceman, Nicolas Prieto from the Grand Hyatt New York City, Anna Cabrales of Morrell Wine Bar & Cafe and Meaghan Levy of The Pierre New York.
Attendees will taste wines paired with a commune of flavors of the region including lavender, truffles, olives and dried herbs. White wines will be poured with a variety of heirloom radishes, french butters, fresh artisan breads and sustainably-raised mussels. Rose wines will be served alongside pates of duck and game, hand-chopped beef tartare and a specially hand-crafted gelato. The red wines will showcase chef prepared pastas, cured meats, salumi and terrines. All guests will nosh on a wide-selection of olives and artisan cheeses including Saint Marcellin, Tomme de Savoie, Reblochon and Dauphinois to name a few. Expect culinary surprises and education while sipping some of the best wines available in New York City.
We hope to see you at the event!
2019 © LocalWineEvents.com. All Rights Reserved.