Our 2020 Harvest Update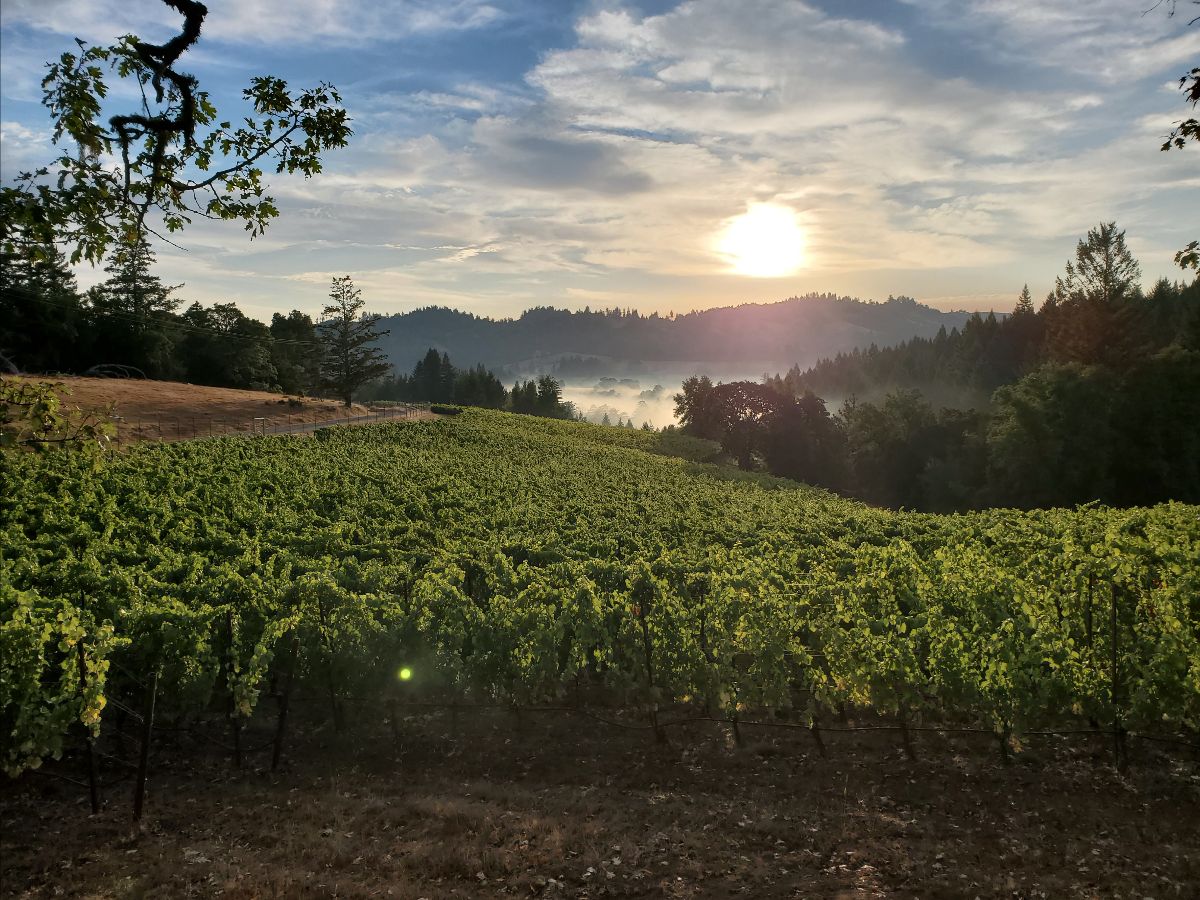 As is often the case with harvest, our season came to an end in the blink of an eye, as the Red Car team navigated a successful yet very challenging vintage. Winemakers Tanner & Kenny, and our two interns, Matt & Danielle, hit the ground running before harvest began. Beginning with a late July bottling, the team balanced vineyard & winery work, while knocking out a complete top-to-bottom cleaning of our cellar. As July concluded and August began, daily temperatures began rising, as each day we worked under blue bird skies and warm temperatures.  By the time the 2nd week of August rolled around, our cellar was dialed-in and ready to receive fruit.
We quickly began to realize that the warm weather that we were experiencing was going to really push things along and that we'd be "knee deep" by week's end. In Red Car tradition, our first pick started at Heaven & Earth on August 18th with a block of Calera Pinot Noir.
Coinciding with the start of harvest, a rare and severe series of thunderstorms brought widespread lighting strikes to our area, sparking numerous wildfires throughout the region. Focused on our vineyards and young wines, none of us knew exactly what the weeks to come would look like. We came together as a team, and unanimously agreed to forge ahead, acknowledging the challenges and uncertainties ahead of us.  Our vineyard team persevered, picked with urgency, even having to pass the Sheriff's security check points while driving to our vineyards.
We soon began harvesting small, selective picks of Pinot Noir from the Hervey and Ramondo vineyards for our Rosé program.  This year, we took on nine separate picks before concluding. In a matter of days, we had all of that Rosé in tank and barrel, which felt like a major accomplishment in itself. We had a 2020 Rosé!  And it's already a wine we can be proud of.
As the days progressed, we simultaneously picked all of our Pinot Noir from Heaven & Earth and began diving headlong into our Chardonnay vineyards.  Chardonnay from the Mohrhardt Ridge Vineyard was the first to be harvested, followed by our Estate, and wrapping up with Zephyr Farms. We are passionate about our Chardonnay vineyards, and are truly thankful to say that we were able to bring in 100% to the winery without issue.
This was truly the "peak" of our season, as we found ourselves pressing Chardonnay & Rosé fruit, sorting Pinot Noir, and managing barrel fermentations. With the cellar filled with fermenting Pinot Noir tanks, and fragrant barrel fermentations, the comforting and familiar aroma of harvest provided a sense of normalcy.
With each coming day, we were met by smoke-filled horizons and red sunrises. Stories began to circulate in our peer group of compromised fruit, road closures, and evacuations. Still, we pushed forward, as did everyone in our area, offering up help to anyone in need. In the end, we were able to harvest all of our Chardonnay and nearly all of our Pinot Noir.  We are confident that our 2020 Rosé, Chardonnay, and Pinot Noir will be as outstanding as our past vintages.
Though we are incredibly fortunate, we were affected by the wildfires like so many of our neighbors.  While we waited for the smoke to fade, it became clear that our Syrah and Cabernet Sauvignon had been affected.  We made the tough decision to let the fruit hang on the vine as heavy smoke from the wildfires compromised the clusters. There will be no Red Car Syrah or Cabernet Sauvignon from the 2020 Vintage.  No harvest ever goes exactly as planned, but this one proved to be one that none of us would ever forget.
We thank you for your continued belief in what we do each day and look forward to enjoying the 2020 Vintage with you in the future.
With Gratitude,
The Red Car Team
Thank you to all of you who have inquired about our safety during this Harvest season.
And Thank you for supporting Sonoma County wineries.
Copyright © 2020 Red Car Wine Co, All rights reserved.
Our mailing address is:
Red Car Wine Co
8400 Graton Road
Sebastopol, CA 95472