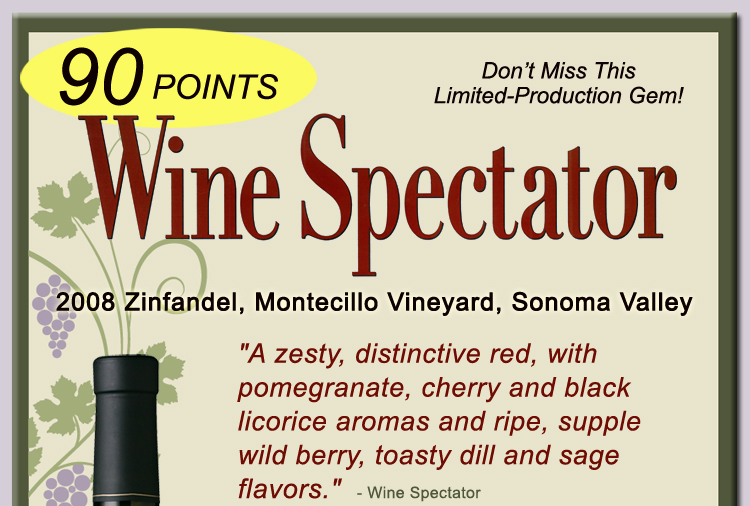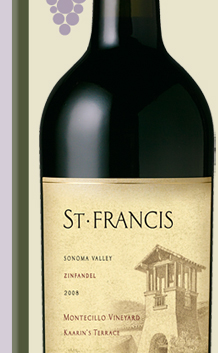 SPECIAL PRE-RELEASE OFFER
St. Francis introduces our newest 90-point wine—2008 Montecillo Zinfandel. 
To celebrate, we're pleased to offer you an opportunity to purchase this limited-production wine before its release to the general public. With only about 50 cases
available, this wine will sell out quickly.
$40 / bottle   •   $432 / case
To order, simply call one of our friendly wine experts at: (800) 650-5437
♦  ♦  ♦
Don't miss us at ZAP's Annual Zinfandel Festival at Fort Mason, San Francisco 
If you plan to be in the San Francisco area on Thursday, Jan. 27, join St. Francis Executive Chef Dave Bush and team as they serve culinary magic alongside our sensational wines at the Good Eats & Zinfandel Pairing event—part of the Zinfandel Advocates and Producers (ZAP) annual Zinfandel Festival.
Click HERE for more information.
Valid while supplies last. Questions? Call (800) 650-5437, M-F 9:00 am – 5:00 pm.
St. Francis Winery can currently ship wine directly to the following states:
AK*, AZ*, CA, CO, CT, DC, FL*, GA, HI, IA, ID, IL, IN*, KS, LA, MI, MN, MO, NC, NE, NH, NJ*,
NM, ND, NV, NY, OH*, OR, SC, TN*, TX, VA, VT, WA, WI, WV, WY.
*Certain restrictions apply in these states. Call for details.