WINE SHOP WINE CLUB INFORMATION RECIPES EVENTS
IN THIS NEWSLETTER
St. Francis: "Best Places to Work"
"Turn Up The Heat" Photo Contest
11th Annual Blessing of the Animals
Holiday Parties & Events at St. Francis
Recent Events: Online Photo Galleries
Weekly Facebook Photo Features
---
ST. FRANCIS IN THE NEWS
Tidbits from Around the Web

————–
NOW SHIPPING TO MARYLAND!

At long last, St. Francis Winery is now able to ship wine to our friends in Maryland. Thank you for your patience!
♦♦♦
St. Francis Farm-to-Table Pairings
Featured on The Food Show

St. Francis' culinary programs and Estate Vegetable Garden were recently featured on The Food Show, with host Clark Wolf.
VIEW THE SEGMENT
♦♦♦
Miami Herald "Highly Recommends"
St. Francis Old Vines Zinfandel

Our Old Vines Zinfandel was one of only two "highly recommended" Zins out of nine wines chosen by Fred Tasker at the Miami Herald.
READ THE ARTICLE
♦♦♦
St. Francis Bottles Special
"Centennial Zinfandel" for LMU

St. Francis recently bottled a limited-edition Old Vines Zinfandel in celebration of Loyola Marymount University's 100th anniversary.
WATCH THE VIDEO
♦♦♦
KRON4 News Features
St. Francis Wine & Food Pairings

Our Wine & Food Pairing programs were recently featured on the San Francisco Bay Area's KRON4 evening news.
VIEW THE SEGMENT
♦♦♦
The Huffington Post Recommends
St. Francis Intatto Chardonnay

The Huffington Post calls St. Francis' unoaked Intatto Chardonnay "clean" and "vibrant" – the "perfect pairing for grilled chicken."
READ THE STORY
♦♦♦
A Pairing of Aces:
St. Francis Has the Winning Hand

Author and "Pairing Matchmaker" Lauren Berley calls St. Francis "this summer's hip hang in Sonoma" in this fantastic writeup. 
READ THE ARTICLE
♦♦♦
St. Francis Featured on
SomethingAboutSonoma.com

Tour our Visitor Center, vegetable garden and  remodeled dining room with Dave Bush and Christopher Silva in
these new videos. 
SEE THE VIDEOS
♦♦♦
"MORE, MORE, MORE!"

WineryPatron.com's Kip Davis raves about our Wine & Food Pairings and other unique visitor experiences in this St. Francis profile. 
READ THE PROFILE
♦♦♦
Congratulations Robert Aldridge!

St. Francis CFO Robert Aldridge was recognized for his outstanding leadership in the North Bay Business Journal's inaugural CFO Recognition Awards. 
READ THE ARTICLE
---
ST. FRANCIS ON THE ROAD
Upcoming Regional Events
  ———-
TONIGHT!
St. Francis "Fun With Wine" Dinner
Fresh, Santa Rosa, CA
Thursday, August 25, 2011
6:00–9:00 pm

Join Winery President Christopher Silva for tonight's Fun With Wine dinner at Lisa Hemenway's Fresh.
MORE INFORMATION
♦♦♦
European Wine Cruise with St. Francis
Explore Wines of the Rhine & Mosel
Departs USA: November 9, 2011


Enjoy a memorable 7-day wine-themed river cruise from Luxembourg to Amsterdam with Winery host Christopher Silva.
VIDEO INTRO BROCHURE
---

RECENT EVENTS
Online Photo Galleries
———-
Fandango 2011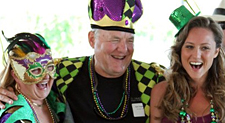 We enjoyed a great turnout and beautiful weather for Fandango 2011. Festivities included live music by Gator Beat, delicious food, dancing, a Mardi Gras costume contest, and of course wine!
SEE THE PHOTOS
♦♦♦
2nd Annual Stars Under the Stars
Outdoor Film Festival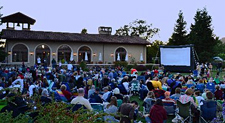 A big "THANK YOU" to everyone who
came out to the Winery this summer for our 2nd annual Stars Under the Stars outdoor film festival. This year's festival was so much fun that we're already making plans for next year—and we'd
love to hear your suggestions for movies, bands and food vendors! Please post suggestions to our Facebook page or email dbuerger@stfranciswinery.com.
PHOTO GALLERY #1
PHOTO GALLERY #2
PHOTO GALLERY #3
♦♦♦
Annual Wine Club Lobster Feed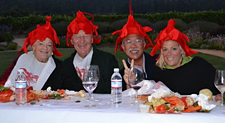 We couldn't have asked for a more beautiful evening in Sonoma Valley to
hold our 2011 Lobster Feed. Thanks
to everyone who attended. We hope
to see you again next year!
SEE THE PHOTOS
Saturday, October 22  •  3:00–6:00 pm
Barrel Tasting  •  BBQ  •  Live Music  •  More
If you love Zinfandel, you'll want to join us at our beautiful Sonoma Valley Visitor Center as we celebrate harvest with a Zinfandel-themed wine sale and barbecue that's not to be missed. Relish Executive Chef David Bush's mouthwatering grilled creations as you enjoy live music and shop our extensive selection of premium Sonoma County Zinfandels. Special pricing will be offered for one day only—and only to those who attend this exclusive event.
$35 admission, $25 club members
Reservations Required  •  Must be 21 to attend
For tickets, call: (888) 675-WINE, x 259
*Please note that our Tasting Room will close
at 2:00 pm on October 22 for this special event.
---
St. Francis Winery & Vineyards Honored as One of
"THE BEST PLACES TO WORK IN THE NORTH BAY"
St. Francis Winery & Vineyards is the only winery in Sonoma, Napa and Marin counties recognized on the North Bay Business Journal's prestigious list of the Best Places to Work in the North Bay.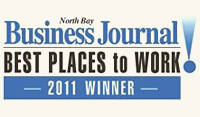 ---

Amateur grill masters, passionate cooks and food photography aces are all invited to take our Turn Up the Heat photo challenge and submit original, mouthwatering images with accompanying captions. Show off your flame-worthy creations and compete for the title of "St. Francis Grill Master" and a three-day epicurean adventure at St. Francis Winery in Sonoma County! But hurry—entries are due August 31!
LAST CALL FOR ENTRIES!

And be sure to download the 42-page St. Francis Fast and Flavorful Guide to Grilling cookbook—it's FREE!  Download it HERE.
---
11th ANNUAL BLESSING OF THE ANIMALS
Sunday, October 2, 2011
Take part in our 11th annual Blessing of the Animals event by bringing your best furry friend to be blessed here at the winery. If you have a dog, plan to show it off by participating in our "Winery Dog of the Year" contest.* We'll have wine, nibbles, special guests and fabulous raffle prizes donated by local pet-friendly businesses. All proceeds from this event go to support the Sonoma Humane Society. Admission is FREE!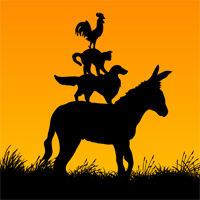 Date: Sunday, October 2, 2011
Time: 2:00 – 5:00 pm
Price: FREE
Phone: (888) 675-WINE, ext. 259


Check out photos from last year's event HERE.
*Winery Dog of the Year contest limited to first 50 entrants.
---

Make the holiday season bright with premium St. Francis wines paired with Executive Chef David Bush's holiday menus—together in a setting that is nothing short of magical. Reserve our breathtaking Sonoma Valley Visitor Center for your holiday gatherings. Our event staff will work with you to create an exceptional experience that's sure to leave a lasting impression. Book a Sunday–Thursday event through December 30, 2011 and receive a 10% discount!  Don't wait—the most sought after dates fill up fast.
♦  Wine Receptions (up to 200 people)
♦  Private Dinners & Lunches (up to 72 people)
♦  Guests receive 20% off all purchases
♦  Corporate gift specials


For information and reservations:
email events@stfranciswinery.com or call (888) 675-WINE, x255

---
PATRONS SOCIETY WINE CLUB UPDATE
September Wine Club selections will begin shipping on September 12th. Below is a sneak peek at the extraordinary wines we've chosen for Patrons Society Club Members. Please note the wines you receive will depend on your Club level and state of residence. For details and to view the entire 2011 schedule, click HERE.

'08 Zinfandel
Bacchi Vineyard
Russian River Valley
A distinctive old vines Zinfandel layered with rich aromas of black cherry, cassis and toasted sage, showcasing complex flavors of boysenberry, violets and roasted herbs.

'07 Red Wine
Cote du Sonoma
Sonoma County
Inspired by the rich, fragrant blends produced in France's Rhone Valley, this rich flavorful wine is crafted from a unique collection of grapes from throughout Sonoma County.
---

'10 Chardonnay
Intatto
Sonoma County

Italian for "untouched," Intatto perfectly describes this Chardonnay that has not been influenced by the use of oak barrels for aging. Without oak, the fruit takes center stage, creating a lively wine with crisp tropical flavors and a bright citrus finish.
Not a Patrons Society
Wine Club Member?
Click HERE to learn more about
the benefits of membership.
ATTENTION LOCAL CLUB MEMBERS!
Don't Miss Our Special September Pick-up Party
Friday, September 9th  ♦  5:30-7:30 pm
You're invited to a special after hours Patrons Society pick-up party in our Tasting Room on Friday, September 9th from 5:30-7:30 pm. Enjoy appetizers and taste all of our new September releases. We will also be tasting one of our favorite new limited-production Artisan selections, set to be released in October. Join us!
Please RSVP to (800) 650-5437 by September 1st
Bring a friend to experience what our Patrons Society has to offer!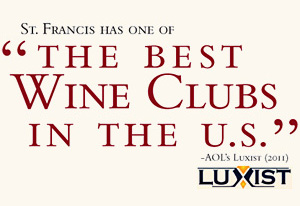 ---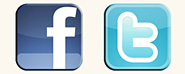 KEEP UP WITH THE LATEST WINERY NEWS
The best way to stay up to date with the latest happenings from around the Winery is to connect with us on Facebook and Twitter.
Interact with our winemakers and over 6,000 other St. Francis fans, share a comment or photo, learn about upcoming events or take advantage of special offers and promotions. There's always something new to see or read.
Click HERE to become a fan of St. Francis Winery on Facebook.
Click HERE to follow us on Twitter!
---
FACEBOOK PHOTO FEATURES
Online Photo Series
Wine of the Day
Monday Morning Views
from the Visitor Center

Each morning, the first visitor to our tasting room selects their favorite wine to be our featured "Wine of the Day."
SEE THE PHOTOS



Every Monday, take a moment to visit St. Francis Winery through the lens of Erica Petersen's Canon EOS.
SEE THE PHOTOS
From Bud-Break to Barrel
Watch Our Garden Grow!


In this weekly photo series, we document the growing season of a single Sonoma Valley Syrah vine – from bud-break to barrel.  
SEE THE PHOTOS



Check-in each Friday to see the latest bounty from the 2-acre Estate Vegetable Garden in front of our Sonoma Valley Visitor Center.
SEE THE PHOTOS
shop online | events | wine club | recipes | winery | visitors center | directions
WA State Permit # 082790