Valentine's Day is just around the corner! Delight your sweetheart with a delicious gift of wine and chocolate from St. Francis Winery. Choose from our selection of gorgeous hand-painted etched bottles, port-filled chocolates and more…
Order soon to ensure delivery before Valentine's Day — check our Shipping Schedule.
Order Online or call one of our friendly wine experts at (800) 650-5437.
And remember, a large selection of St. Francis Sonoma County wine is available in our online Wine Shop as well. Or give us a call and we'll help to create the perfect gift for your Valentine!

Elegant Hand-Painted Etched Bottles
$42, wine club price $31.50
These bottles are beautifully etched and hand-painted for the perfect finishing touch to a romantic table set for two.
Your choice:
Two Hearts "Be My Valentine"
2008 Cabernet Sauvignon, Sonoma County
ORDER NOW
Cupid "Happy Valentine's Day"
2008 Old Vines Zinfandel, Sonoma County
ORDER NOW
Big Heart "Be Mine"
2008 Old Vines Zinfandel, Sonoma County
ORDER NOW
Don't forget chocolate!
Add a box of our delicious Port-Filled Chocolates.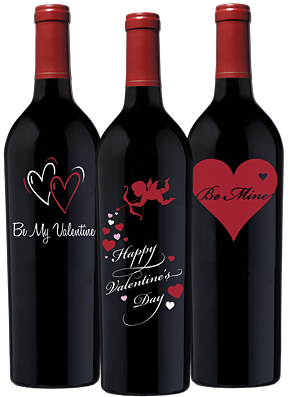 Port & Chocolates
$49, wine club price $39.20
• 1 bottle 2009 Sonoma County Port (750ml)
• 1 box of St. Francis Port-Filled Chocolates
A chocolate lovers' dream! Tempt their sweet tooth with these delicious Port-filled chocolates, presented in a handsome red gift box alongside our luscious 2009 Sonoma County Port.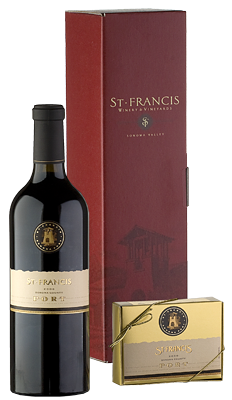 Port-Filled Chocolates
$9.95, wine club price $7.96
• 1 box of St. Francis Port-Filled Chocolates
What Valentine's gift would be complete without chocolate? These mouthwatering treats are overflowing with our very own seductive St. Francis Port.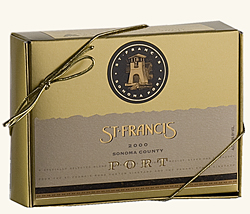 Planning to be in Wine Country for Valentine's Day?
Make it memorable with a very special Winery Dinner at St. Francis! Celebrate with great wine and food as Executive Chef David Bush creates an exquisite menu for you and your special someone. Share an intimate candlelit experience, with each tantalizing course expertly paired with our premium Artisan Series wines. There's no place quite as romantic as the rolling vineyard-covered hillsides of Sonoma Valley.
**Reservations Required**
DATE: Tuesday, February 14, 2012
TIME: 6:30 PM
PRICE: $125.00 Public, $99.00 Wine Club Members (+tax & gratuity)
PHONE: 888-675-WINE
EMAIL: info@stfranciswinery.com

We can ship wine to the following states: AK, CA, CO, CT, DC, FL, GA, HI, IA, ID, IL, LA, MD, MI, MN, MO, NC, ND, NE, NH, NM, NV, NY, OR, SC, TN, TX, VA, VT, WA, WI, WV, WY.
*Certain wines are not available in all states. Please call for details: (800) 650-5437
————————
Shipping Schedule
For delivery by 2/13
• UPS/Fed Ex Ground: Order by 5:00 pm (PST) 2/6/12
• Fed Ex Two Day: Order by 5:00 pm (PST) 2/8/12
• Fed Ex Overnight: Order by 5:00 pm (PST) 2/9/12

shop online | events | wine club | recipes | winery | visitors center | directions
WA State Permit # 082790