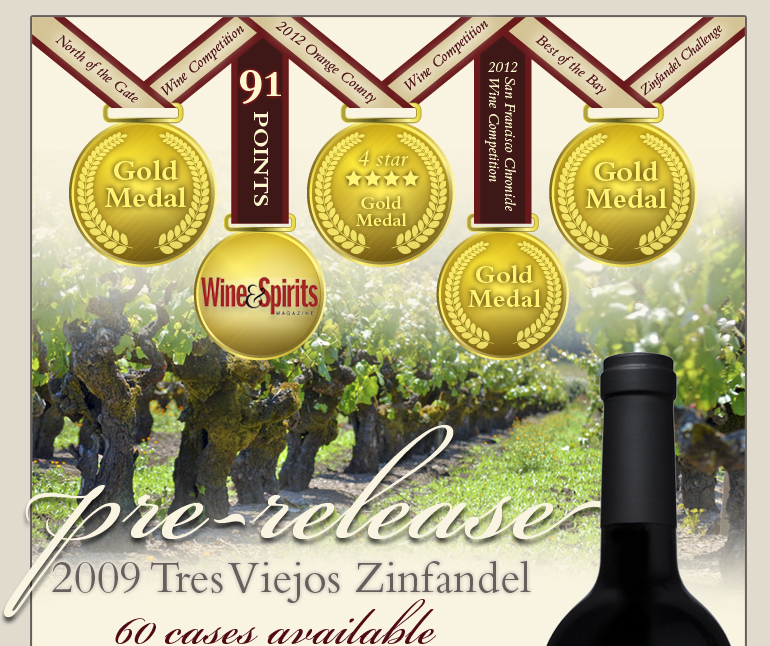 SPECIAL SNEAK PREVIEW ENDS FRIDAY!
The stellar accolades keep rolling in for our 2009 Tres Viejos Old Vines Zinfandel, and we just can't wait any longer to share it with the world! A perennial Wine Club favorite, Tres Viejos (Three Old Men) is a harmony of luscious Sonoma County Zinfandels, sourced from a trio of Sonoma County's oldest heritage vineyards and masterfully blended by Winemaker Heather Munden. Her efforts have already earned 91 points from Wine & Spirits and a heap of Gold from top national and regional wine competitions.
Rich and velvety, this is an old vine Zinfandel with power and finesse. Aromas of fresh blackberry jam, black pepper, dark chocolate and clove are balanced with flavors of black cherry liqueur and worn leather—a Sonoma County tour de force!
Purchase this Award Winner before its official public release!
This special pre-release offer ends Friday. With only 60 cases available, it will sell out! Reserve yours now!
Bottle Price: $45, club $36 • Case Price: $486, club $432
CLICK HERE to order online, or call (800) 650-5437
CLUB MEMBERS ENJOY ONE-CLICK SHOPPING!
Simply click the number of bottles you wish to purchase.
We'll charge your club account and ship them to the address on file!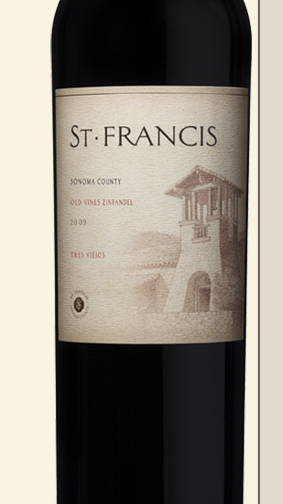 *Pre-Release offer ends Friday, August 31, 2012. Available while supplies last on a first-come first-served basis.
Taxes and shipping not included. Call for details: (800) 650-5437.
We can ship wine to the following states: AK, AZ*, CA, CO, CT, DC, FL, GA, HI, IA, ID, IL, IN, KS,
LA, MD, MI, MN, MO, NE, NV, NH, NJ*, NM, NY, NC, ND, OH*, OR, SC, TN, TX, VT, VA, WA, WV, WI, WY
*Please allow 3-5 weeks for delivery to some states.
www.StFrancisWinery.com
events | wine club | recipes | winery | visitors center | directions | facebook
WA State Permit # 082790
UPDATE YOUR EMAIL PREFERENCES / UNSUBSCRIBE FROM MAILINGS