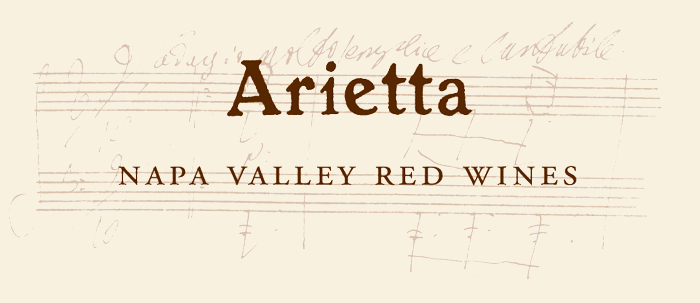 Thank you for your recent interest in the Arietta wines. We are delighted to offer you our current releases.
Please click here to purchase online.
Leading the way is the spectacular 2009 Arietta Cabernet Sauvignon, the finest we have ever made and a worthy successor to the 2007. Gifts of a long and cool growing season, the 2009 Arietta H Block and 2009 Arietta Variation One feature the glorious aromatics and relatively lower alcohols of our favorite Arietta vintages for current drinking: 1998 and 2000 (great vintages for Arietta as well as Right Bank Bordeaux). Caren and I are smitten by the precocious beauty, breeding and finesse of the H Block 2009, and the rich and exotic velour of the Variation One 2009. Our new primary source for our Medoc-style blend Arietta "Quartet" 2009 is three-acre jewel of a vineyard planted to the four primary Bordeaux varietals by David Abreu. The Quartet 2009 also raises the quality bar, and is an extraordinary value given its fruit sources and masterful blending by winemaker Andy Erickson. The Arietta White Wine "On The White Keys" 2010 will surprise and delight lovers of European styled wines with its vibrant aromas, mouthwatering acidity, and intense, lingering finish. You will find detailed notes on these wines by going to AriettaWine.com.
We are delighted to welcome you to Arietta, and look forward to meeting you when you visit the Napa Valley.
Salut!



Fritz and Caren Hatton
Proprietors
info@ariettawine.com
telephone 707 963 5918
facsimile 707 963 5919
Arietta
P.O. Box 349