Private Cellar Sunday
From My Cellar to Yours
Every Sunday at 7:30 a.m.
The hand craft Clos de Sarpe St Emilion – only 400 cases made
Every Sunday at 7:30 a.m. I'm going deep into my wine cellar to pull out the last of some very great bottles. I promise rare wines for the cellar- builder in very limited quantities, gems of astonishing quality carrying highly pedigreed labels that will tempt the most temperate among us.
So, don't hit the snooze! These wines will be gone, gone, gone, quickly.
Please note: these wines have been in temperature-control since they arrived from France.
Bordeaux 2003 Right Bank
The wines of the vintage
These wines are from St Emilion. St Emilion led the quality revolution in the 1990s with lower yields and healthier and riper grapes. It made the old Left Bank Bordeaux Biggies wake up. They have St Emilion to thank for the high quality of their own wines today.
These St Emilion wines are lush and round and the reference wines of the 2003 vintage. They are exactly why we love our Bordeaux wines so much.
These wines are entering their plateau (a very long one) of maturity and they are ready to start exploring now. Ive included Parkers notes.
Two High Pedegree, Cotes Castillon Estates
Mature and Ready To Drink Now
Chateau d'Aiguihle Cotes de Castillon 6 bottles $190, 12 bottle case $359.88 ($29.99) Owned by the owner of Ch Cannon Gaffaliere GCC in St Emillion. Stephane Derenoncourt consultant
"This 6-acre vineyard has produced a dark ruby/purple-colored 2003 revealing sweet black currant and mineral-infused aromas as well as flavors, medium to full body, and ripe tannin. The winemaking consultant for this blend of 80% Merlot and 20% Cabernet Franc is Jean-Michel Fernandez. RParker
Clos L"Eglise Cotes de Castillon 6 bottles $190, 12 bottle case $359.88 ($29.99).
Owner by Gerard Perse and Ch Pavie St Emilion
Top Wines of the vintage – for the cellar
Ch La Gomerie St Emilion Parker 94 Two wood six packs (12 bts) left
$89/bt, 6 bottles $499, 12 bottle case $949
A limited production garagiste operation, La Gomerie is treated like a favored child by its proprietor. Jean-Philippe Fort, Michel Rollands top assistant, is a consultant for this 100% Merlot-based wine produced from a 5-acre, 31-year-old vineyard. The sensational 2003 is performing even better from bottle than it did from cask. Production was a tiny 750 cases (as opposed to1,000 in an abundant year), and the finished alcohol is 13.7%, rather high for Bordeaux. Nevertheless, the wine possesses surprising freshness and liveliness, which adds to its appeal. A deep purple color is accompanied by a sweet bouquet of chocolate, black raspberries, cherries, charcoal, and toasty oak, powerful, full-bodied, concentrated flavors, and high levels of silky tannin. Low acidity and abundant glycerin suggest it can be drunk now and over the next decade. This is a sumptuous St.-Emilion.
Clos de Sarpe St Emilion Parker 90-94 2 cases left
, 6 bottles $499, 12-bottle case $960
After the massive, monster-sized efforts of 2000 and 2001, this no compromise wine, made in an artisinal style, is meant for consumers who are willing to invest 5-10 years of patience. Very ancien in style, the 400-case production 2003 is a blend of 85% Merlot and 15% Cabernet Franc fashioned from tiny yields of 12/13 hecoliters per hectare. A blue/purple color is accompanied by a provocative bouquet of liquid minerals, flowers, black cherries, creme de cassis, smoke, and foresty/earthy characteristics. Broad, powerful flavors are buttressed by equally significant tannin levels. The acidity is low, but there is a freshness to the flavors that belies what must be a high pH. This is an intense expression of winemaking that lovers of great old Bordeaux will savor. It is capable of lasting 3-4 decades. Anticipated maturity: 2012-2030..
Ch Beau Sejour Becot St Emilion Parker 93 15 bts left
$89/bt, 6 bottles $499, 12 bottle case $949
From a 41-acre vineyard situated on St.-Emilions limestone plateau, Beau-Sejour-Becots blend can vary, but it is approximately 70% Merlot, 24% Cabernet Franc, and 6% Cabernet Sauvignon. Production can be as low as 4,000+ cases (in a tiny vintage such as 2003), or as high as 7,000+ cases (in an abundant year such as 2004). The 2003, which reminds me of a 1990 Right Bank Bordeaux, tips the scales at 13.5% alcohol. Its dark plum/ruby/purple color is followed by a sweet nose of creosote, scorched earth, black cherries, currants, and pain grille. Deep, full-flavored, muscular, textured, and rich with light to moderate tannin in the finish, this lavishly rich, full-bodied effort requires 1-3 years of bottle age, and should drink well over the following 12-15.
Ch Pavie Macquin St Emilion Parker 95 21 bts left
$149/ bt, 6 bottles $849, 12 bottle case $1649
This tremendous terroir has been brought back to life over the last 15 years by Nicolas Thienpont and Stephane Derenoncourt. Its 37-acre vineyard, planted in deep clay and limestone soils, is composed of 70% Merlot, 25% Cabernet Franc, and 5% Cabernet Sauvignon. Pavie-Macquin is not far from Gerard Perses little treasure, Pavie-Decesse. The 2003 Pavie-Macquin turned out brilliantly, no doubt because its soils supported the summers torrid heat and drought. Tipping the scales at 13.8% alcohol, it boasts an opaque purple color along with a gorgeous nose of blackberries, smoked meats, licorice, incense, and barbecue spices. Huge fruit on the attack is followed by a powerful, masculine wine with huge extract, high tannin, low acidity, and formidable power. Despite its low acidity, this is a wine to forget for 3-4 years, and drink over the following 20-25 years. When fully mature, this brilliant effort should rival the 2000 and 1998.
Ch Troplong Mondot St Emilion Parker 94 42 bts left
$89/bt, 6 bottles $499, 12 bottle case $949
Very deep garnet-black. Warm plum, cedar, tobacco and mocha make for a very alluring if somewhat contrasting nose on this young wine. The palate is very tight, with firm, slightly astringent tannins and the faintest touch of bitterness hinting over zealous extraction. This is however a minor point as the wine is wonderfully rich, full bodied and concentrated, and aptly balanced by medium+ acidity. Very long finish. Drink now to 2028. Tasted February 2009.
Ch Bellevue Mondotte St Emilion Parker 98 8 bts left
$299/bt, 6 bottles $1700, all 8 bottles $2040 ($255)
An exquisite jewel in Chantal and Gerard Perses Right Bank empire, Bellevue-Mondotte is a tiny, 5-acre parcel of 45-year-old vines planted on the limestone plateau above Pavie-Decesse and Pavie-Macquin. It is composed of 90% Merlot, 5% Cabernet Franc, and 5% Cabernet Sauvignon. I tasted the 2003 on three separate occasions, one of which merited a three-digit rating. Sadly, there are only 4,000 bottles of this prodigious effort. Possessing relatively high alcohol (14.5%) for a Bordeaux, it is an amazing blend made from 15 hectoliters per hectare. A dense, viscous-looking purple color is accompanied by a sweet perfume of blackberries, espresso roast, fried lard, and pain grille. Full-bodied and massively rich with decent acidity and plenty of structure as well as tannin, this youthful 2003 should hit its stride in 3-5 years, and last for three decades. This may be what the great 1929s or 1947s tasted like at age three.
Cynthia Hurley
To Order Just hit reply and tell me what you want to reserve. Orders will be honored in the order received. In stock and ready for delivery – weaather permitting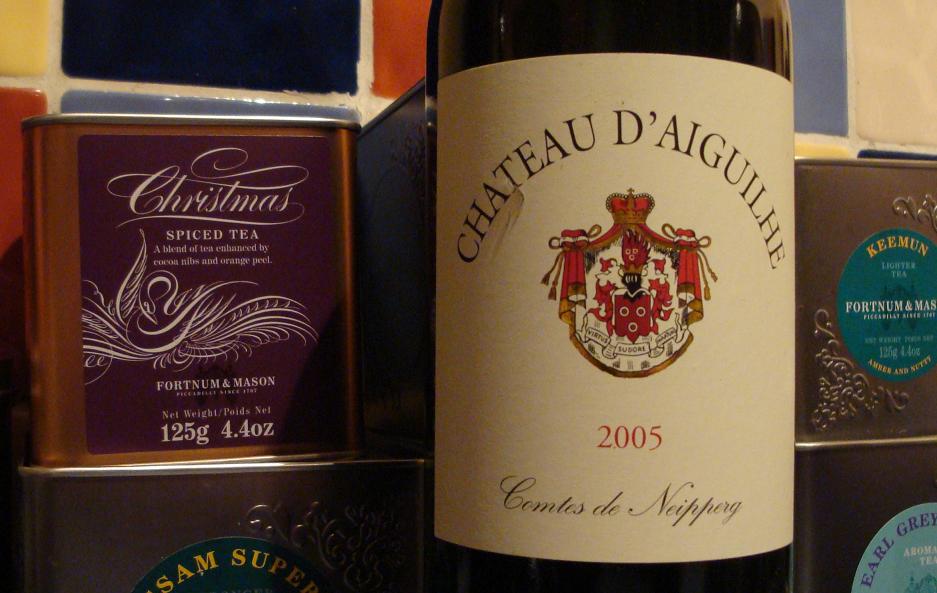 The Ch D'Aguilhe Label (a Stephane derenoncourt project)
Prices for all wines are above 6 bottle minimum for the Cotes Castillon wines and 3 bottle minimum for the St Emilliion wines
The pricing and sale of any wine is made only by the licensed retailer, who will arrange for delivery on behalf of the customer at $6 per case and must collect 7% NJ sales tax on all sales.
Please forward this to any friends interested in wine
Cynthia Hurley
Cynthia Hurley French Wines
---
email: cynthia@cynthiahurley.com
phone: 617 965 4251