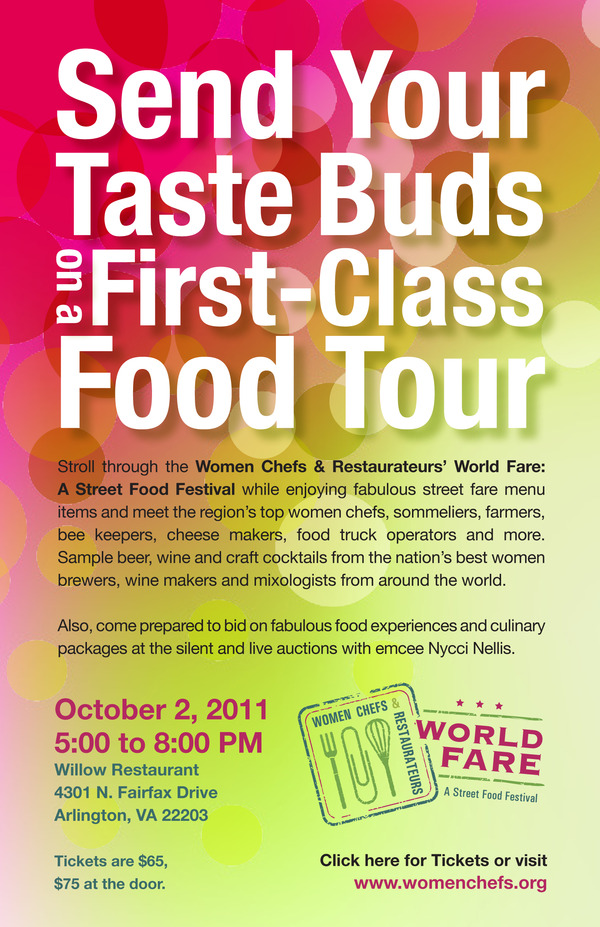 The Washington D.C., International Wine & Food Festival is proud to support WCR's World Fare: A Street Food Festival! This amazing line up of chefs include:
Marianne Ali, DC Central Kitchen
Beverly Bates, Vidalia
Amy Brandwein, Casa Nonna
Mikala Brennan, Hula Girl Truck
Somchet Chumpapo, L'Academie de Cuisine
Vaishali P. Chitnis, Stratford University
Rita Garruba, 8407 kitchen bar
Ruth Gresser, Pizzeria Paradiso
Ellen Gray, Equinox Restaurant, Todd Gray's Watershed and Todd Gray's Muse at the Corcoran
Carla Hall, Alchemy by Carla Hall and co-host of ABC's The Chew
Anne Hutchinson, Hank's Oyster Bar and Lounge
Susan James, Stonyman Gourmet Farmer
Kate Jansen, Willow
Ris Lacoste, Ris
Jamie Leeds, Hank's Oyster Bar and Lounge
Ana Leis, DC Empanadas
Janis McLean, 15 Ria
Sue McWilliams, Paint Branch High School
Tracy O'Grady, Willow
Shannon Overmiller, The Majestic
Melanie Parker, 701 Restaurant and Bar
Zena Polin, The Daily Dish
Michelle Poteaux, Bastille Restaurant
Nora Pouillon, Restaurant Nora
Susan Soorenko, Moorenko's Ice Cream
Allison Sosna, DC Central Kitchen
Linda Vogler, DC Central Kitchen
Samantha Weigand, L'Academie de Cuisine
Click here to buy tickets!!