You can welcome summer with a beachy clambake, no matter where you live.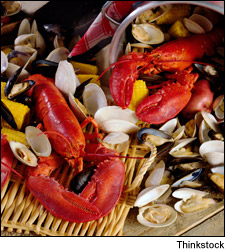 Dining Tip: Stovetop Clambake
• 2 cups fish stock or bottled clam juice
• Sea salt and freshly ground black pepper
• 5 pounds rockweed (North Atlantic seaweed used to pack shellfish; ask your fishmonger) or kale seasoned with Japanese seaweed powder
• 1 1/2 pounds new potatoes, cooked to just tender and cooled completely
• 2 pounds kielbasa, linguica, andouille or other sausage of your choice, cut in 6-inch lengths
• 60 steamer, littleneck or cherrystone clams, well-scrubbed
• 6 1-pound lobsters (optional)
• 12 ears corn, husks and silk removed
• 1 egg
• 1/3 pound butter, melted
• 3 lemons, cut into wedges
1. Place a large lobster pot with a tight-fitting lid (at least 10 gallons) over medium-high heat. Add 1 quart water, the stock or clam juice, a generous pinch of salt and 1/4 of the seaweed. Bring to a boil.
2. Meanwhile, using cheesecloth tied with string or mesh steamer bags, create six packets, each containing equal portions of potatoes, sausage and clams, 1 lobster and 2 ears corn. Layer the packets in the pot, arranging remaining seaweed or kale around, between and atop the packets. Place the egg securely atop the ingredients, cover and cook 15 minutes, then remove lid and egg, and gently rearrange packets and seaweed so that ingredients cook evenly. Return egg to pot, cover and cook another 5 to 10 minutes, until egg is cooked through when cracked.
3. Cut open and discard the bags, and transfer the food onto warm serving platters. You may also choose to serve each guest a packet on a large plate and allow them to open bags themselves. Place some of the cooking liquid in small bowls, so that guests may dredge their clams in it before dipping in butter. Serve immediately with the cooking liquid, butter, lemon wedges and salt and pepper alongside. Serves 6.
Wine: Sauvignon Blanc.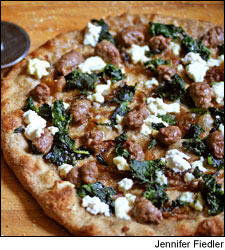 Dining Tip: Grilled Lamb Merguez Sausage Pizza
A grilled pizza with classic flavors, meant to pair with a juicy red
• 1 onion, thinly sliced
• 1 bunch spinach (approx 5 oz.)
• 2 store-bought pizza doughs
• 1 cup whole milk ricotta cheese
• 1 pound lamb Merguez sausage, removed from casing and cut into 1/2-inch pieces
1. Prepare the grill to medium-high heat or preheat the oven to 500 °F.
2. Heat one tablespoon of oil in a large skillet over medium heat. Add the sliced onion and cook, stirring occasionally until soft and browned, around 20 minutes. Remove from the heat and reserve.
3. Bring a large pot of salted water to a boil. Add the spinach and cook until just soft, around 3 to 4 minutes. Strain the spinach using a colander and cool. Squeeze the excess water from the spinach using a towel, then chop finely and reserve.
4. Divide the pizza dough into 4 pieces, then press or roll out the dough until 1/8-inch thick. Brush the dough rounds with olive oil and sprinkle with salt.
5. To grill: Brush the other side of the dough with oil. Place the dough rounds on the grill grates, then quickly top with the onions, spinach, crumbled cheese and sausage. Cover the grill and cook until the dough is browned and sausage cooked through, around 10 minutes. If the crust begins to brown too quickly, remove the lid and continue to cook. When done, remove from the grill and serve immediately.
6. To bake: Place the dough rounds on a greased cookie sheet, then top with the onions, spinach, crumbled cheese and sausage. Bake until the dough is browned and sausage cooked through, around 10 minutes. Remove from the oven and serve immediately. Serves 4.
Wine:  Italian Red
This main-course salad makes the most of in-season asparagus and provides flavor bridges for an easy wine pairing.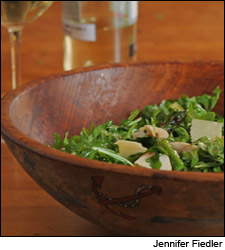 Dining Tip: Roast Chicken and Asparagus Salad
A bright re-styling of a deli classic, meant to pair with a piquant white
Note: This recipe originally appeared in the "8 & 20" wine and food matchmaking column on WineSpectator.com.
• 1 lemon
• 4 boneless skinless chicken breasts
• 1 baguette, thinly sliced into rounds
• 2 bunches of asparagus, trimmed and washed
• 1 clove garlic, minced
• 5 ounces baby arugula
• 1/4 pound shaved Parmigiano Reggiano
1. Preheat the oven to 400° F. Squeeze one half of the lemon over the chicken breasts, season with salt and set aside.
2. In a large, heavy-bottomed sauté pan, heat 3 tablespoons of cooking oil over medium-high heat. When the oil is hot, add the slices of baguette and continue to cook until crisped on one side, then flip them over using tongs and cook until crisp on the other side. Remove the croutons to a plate, and cook the remaining slices by batches, adding more oil when necessary.
3. Rub 1/2 of the asparagus (1 bunch) with cooking oil and season with salt. Place the asparagus in a roasting pan and cook in the oven for 15 minutes, or until the asparagus begins to brown. Remove from the oven and reserve.
4. Heat two tablespoons of oil in one large, heavy-bottomed sauté pan (or two medium-size pans), over medium-high heat. Add the chicken breasts and sear until golden brown, around 3 to 4 minutes, then turn the chicken over and put the pan in the oven to finish cooking. When the chicken is done, around 6 to 8 more minutes, remove from the oven and reserve.
5. While the chicken is cooking, shave the remaining asparagus lengthwise with a vegetable peeler or mandolin. Cut the long shavings into 2-inch pieces.
6. Make a salad dressing by mixing the minced garlic with the juice from the remaining half of the lemon and 2 tablespoons of olive oil. Cut the chicken and the roasted asparagus into bite-size pieces. Toss the arugula, chicken, roasted asparagus, shaved asparagus and cheese with the salad dressing in a large bowl. Season with salt. Divide the salad and the croutons among four plates. Serves 4.
Wine:   Pinot Gris.
Kufteh (Herb Meatballs in Tomato-Plum Sauce)
These tender meatballs are simmered in a sweet-tart tomato and dried plum sauce.
Category : Beef
SERVES 4–6
Ingredients
½ cup yellow split peas
1 lb. ground beef
1 cup cooked basmati rice
½ cup finely chopped dill
½ cup finely chopped tarragon
¼ cup finely chopped parsley
¼ cup finely chopped chives
1 tbsp. ground turmeric
½ tsp. crushed saffron
1 egg, lightly beaten
Kosher salt and freshly ground black pepper, to taste
½ cup plus 7 dried sour plums
¼ cup olive oil
2 medium yellow onions, sliced
¼ cup tomato paste
2 plum tomatoes, cored, seeded, and roughly chopped
Instructions
1. Bring peas and 2 cups water to a boil in a 2-qt. saucepan over high heat; cook until tender, about 40 minutes. Drain; transfer to a bowl. Add beef, rice, dill, tarragon, parsley, chives, turmeric, saffron, egg, salt and pepper; mix. Place ? cup meat mixture in your hand and place a dried plum in the center; form around plum into a 2? ball. Repeat to make seven meatballs; chill.
2. Heat oil in a 6-qt. saucepan over medium-high heat. Add onions; cook until softened, about 15 minutes. Add tomato paste; cook until lightly caramelized, about 2 minutes. Add tomatoes; cook until soft, about 5 minutes. Add remaining ½ cup dried plums and 3 cups water; boil. Add meatballs to sauce, reduce heat to medium-low; cook, covered, until cooked through, about 45 minutes. Season with salt and pepper.
Wine:  Zinfandel.