CALL FOR ENTRIES!
DTC Wine Symposium Video Contest
BIGGER! The inaugural 2012 Direct to Consumer Wine Symposium Video Contest was a smashing success. So this year we're expanding the contest to highlight and award outstanding achievement in winery video production in two categories. The competition is open to all wineries and wine marketing companies.
BETTER! Three winning videos, one from each category, will be selected by the Steering Committee of the 2013 Symposium. Each winner will enjoy one FREE registration to the 2013 DTC Wine Symposium on Thursday, January 24, 2013.
BEST! Show us your best stuff! Think out of the box and the bottle! Enter in one or both categories! Enter NOW!
BEST Winery Marketing Video – 3 minutes or less
BEST Viral Video - 5 minutes or less – Anything wine-related goes! Judging is based on 3 criteria: content, effectiveness of message and number of views.
ENTRY DEADLINE: December 15, 2012
ENTRY FEE: $25.00 per video submission, a contribution to Free the Grapes!
The winning videos will be shown to all of the attendees in a special presentation during the Direct to Consumer Wine Symposium. Your video will be linked from the Direct to Consumer Wine Symposium website. And, you'll have bragging rights for an entire year.
Click Here for full entry details, submission guidelines and submission form.
2012 DTC Wine Symposium Video Contest Winners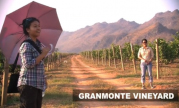 GranMonte Vineyards in Thailand!!
In Khoa Yia, Thailand to be exact! Thailand's only female winemaker, Nikki Lohitnavy, discusses organic winemaking techniques used at her family's winery. She was recently featured on CNN and the winery has won many international awards for their wines.