HOME WINE LOVERS WINERIES & RETAILERS PRESS NEWS ABOUT US
Update: February 22, 2013
Dear Wine Lovers,
Here is an update on wine direct shipping legislation and activity. Please forward to your wine loving friends and visit www.freethegrapes.org to write your legislators if you live in one of the 11 states that continues to prohibit winery-to-consumer wine shipping.
MASSACHUSETTS: House Bill 294 Introduced, Boston Wine Expo Attracts FTG Members
As expected, House Bill 294 was introduced this week. HB 294 follows the provisions of the model direct shipping bill working successfully in a majority of states. Wineries purchase a license to ship from the state and follow provisions such as paying taxes, limiting the amount shipped, etc. (Three other direct to consumer wine shipping bills were introduced as well!)
Action: Take two minutes today to personalize your letter and our website will send it automatically to your state representatives. Just click here. Even if you've already sent a letter, please do so again with the updates we provide in the sample letter.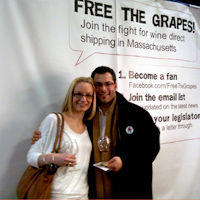 Wine lovers in the Commonwealth continue to be prevented from purchasing wines from out-of-state wineries even though the legislature has had three years to act on an appellate court ruling directing the legislature to correct the unconstitutional ban on shipments.
Massachusetts is the largest state for wine consumption that continues to ban direct shipping; the list also includes Utah, Kentucky, Alabama, and seven others. Let's make Massachusetts the 40th state to pass favorable direct shipping legislation. Consumer support for legal, regulated direct shipment will help turn the tide.
Finally, a big "thank you" to all our members and new members who visited our booth at the Boston Wine Expo, February 16-17! We signed up a lot of new members and will continue to stay in touch using email and updates to our Facebook page.
MONTANA: Favorable Bill in Process
On February 19, the House voted 94 to 6 to move House Bill 402 from second to third reading. The bill goes to House Appropriations and then back to the House floor for a vote on final House passage. We expect the next action on the bill in the House in early March. Then, the bill moves to the Senate for committee consideration.
If passed, HB 402 will replace the flawed connoisseur's license with a workable wine direct shipping law. Although well intentioned, the connoisseur's license does not work because it requires the consumers–rather than wineries—to obtain a state-issued license. This approach did not work in New Jersey or Vermont, either, and those states replaced their laws with one similar to HB 402. In fact, less than 200 wine lovers hold a connoisseur's license and FedEx will not ship wine to Montana because the licensing requirement is on the consumer and not the winery. The current law doesn't even let Montana's wineries ship to Montanans and this must change!
ACTION: When the bill moves to the Senate, we will ask for your help by writing to your Senator!
PENNSYLVANIA: Tax Fixes Sought to Live Bills
On February 5, House Bill 121 was passed out of the House Liquor Control Committee, and now goes to the House floor for a vote. HB 121, unfortunately, continues to include unreasonably high tax provisions which will likely cause wine lovers to not utilize the program. The bill adds 6% sales tax plus 18% flood tax to the retail price of purchased wine. (Note that this bill is not part of the debate over privatization.)
A second direct shipping bill, Senate Bill 36, also includes the high tax language. We're expecting other Senate wine shipping bills to be introduced soon and industry representatives are working to reduce the tax rates in new and existing bills.
ACTION: Take two minutes today to personalize your letter and our website will send it automatically to your state representatives. Just click here. We need to continue conveying that we want legal, regulated direct shipping, but without the onerous tax burdens that wine lovers in other states do not face.
INDIANA: Fixes Sought to Bill
Senate Bill 15 would remove the "winery visit penalty" that requires a consumer to be physically present at a winery before purchasing and receiving future shipments directly from that winery. We have supported these fix-it bills in the past, although SB15 unfortunately does not address the odd Indiana stipulation that bans shipments from wineries with wholesaler representation in the state. That is, the law requires that wineries either ship directly to consumers OR work with a wholesaler, but not both. SB 15 is in the Senate Committee on Public Policy.
NORTH DAKOTA: Fix-it Legislation in Play
Senate Bill 2147 passed the Senate on February 15th – it now goes to the House. The bill would fix a technical flaw that presents an obstacle to wineries shipping through third party fulfillment companies.
SOUTH DAKOTA: Favorable Bill Tabled
Senate Bill 100 would overturn the current ban on direct shipping. The bill has been tabled for the year, but the coalition that organized to support DTC shipping in SD will be working in the off-session to craft a bill for passage in 2014.
VERMONT: Internet Retailer Bill Introduced
Senate Bill 53 would allow in-state e-commerce in both beer and malt beverages for Vermont retailers. The bill is currently in the Senate Committee on Economic Development, Housing and General Affairs.
Thank you for your support!
Free the Grapes!
2700 Napa Valley Corporate Dr. Suite H, Napa, CA 94558 | Phone: 707.254.1107 | Fax: 707.254.0433
E-mail: shackles@freethegrapes.org |