HOME WINE LOVERS WINERIES & RETAILERS PRESS NEWS ABOUT US


Update as of July 29, 2013
We have a brief summer update on wine direct shipping around the U.S.
LEGISLATIVE NEWS
Massachusetts: Reps to Consider DTC Bills this Fall
Thanks to all our Bay State friends for supporting House Bill 294, a favorable bill that would allow legal wine direct shipping (finally). HB 294 will be reconsidered when the legislative session resumes this fall, but please visit www.freethegrapes.org today and take two minutes to write your state legislators. For more information, visit the Massachusetts tab on our website.
Pennsylvania: DTC Shipping to be considered this fall
In June, the House passed House Bill 121, which allows DTC shipment but includes the problematic tax rates previous mentioned here. Like Massachusetts, wine industry representatives tell us to anticipate more action on several favorable DTC bills this fall. You may have seen some recent press coverage indicating bi-partisan support for legal wine shipments. (Note that active bills are not part of the debate over privatization.) ACTION: We need you to continue sending letters of support. Just click here and take two minutes to let your state reps know you want wine direct shipping.
Missed our last newsletter? Check out our "Massive State Update" with details on DTC actions in 20 states! Scroll dowm to read full state updates!
A NATION OF WINERIES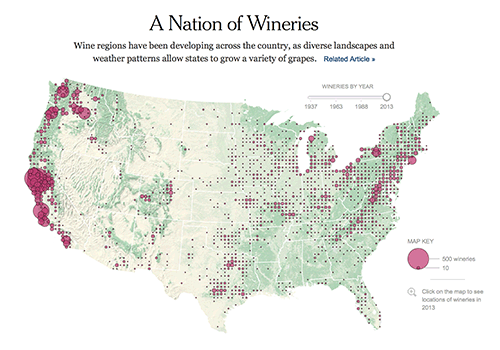 There is at least one winery in each state. That's a remarkable fact, and many media outlets are featuring the joys of visiting your local wine country. The New York Times published a story July 5, "A Nation of Wineries," that includes an interactive graph depicting the growth in the number and location of wineries since 1937.
Legal, regulated direct shipments to wine lovers has played an integral role in this growth. And the support of wine lovers like you has often been the key reason that these laws get passed. Back in 1997 only 17 states allowed direct shipments. Now, 40 states allow shipments, and those states represent 90% of all the wine consumed in the U.S. We've still got new states to open – like MA, PA, DE and several others – as well as onerous laws to streamline. But we wanted to step back and take a moment to draw a clear line between your support and this positive trend for all of us who value the ability to purchase the wines we want to enjoy. Here is a sample of interesting articles on exploring the local winery scene:
More news and updates are posted on our Facebook page.
Free the Grapes!
2700 Napa Valley Corporate Dr. Suite H, Napa, CA 94558 | Phone: 707.254.1107 | Fax: 707.254.0433
E-mail: shackles@freethegrapes.org |