October 2010 Update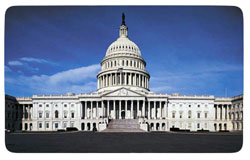 H.R. 5034 HEARINGS: THE AFTERMATH
What were some of the storylines following the House Judiciary Committee hearing on September 29th?
Beer Wholesalers Write Testimony: Perhaps the biggest story from the hearing started in the Salt Lake Tribune, which reported that Utah Attorney General Shurtleff's testimony was written by Paul Pisano, general counsel for the National Beer Wholesalers of America. This story was picked up by the Wall Street Journal and Wine Spectator, among others.
Red Herring Arguments Fall on Deaf Ears: Attendees of the hearing reported that there was little interest by the Judiciary Committee in listening to tired, debunked arguments surrounding underage access and compliance. Winebusiness.com has a good summary here.
Wineries Make Strong Case for Scrapping Bill:Attorney Tracy Genesen of Kirkland & Ellis LLP, was retained as a witness by Wine Institute, a trade association of California wineries and related business. Genesen's testimony was compelling — Chairman Conyers described her testimony as "very persuasive." During the Q&A session following testimony, some members of the Committee probed the idea of compromise language, which was shot down by Genesen. After the hearing, Wine Institute, WineAmerica, Brewers Association, Beer Institute, DISCUS and the National Assoc. of Beverage Importers wrote a joint statement, which can be read here.
Wholesalers: Purposeful Obfuscation? Wholesalers are concerned by direct-to-trade shipping (aka "self distribution"), and clearly HR 5034 is intended to combat self distribution. But rather than address this newer trade issue in isolation, the wholesalers were using old DTC arguments like underage access to combat self distribution. Few journalists picked up on this nuance, repeating the wholesaler talking point about "de-regulation." But DTC shipping is largely based on the model direct shipping bill – more regulation, albeit acceptable, but not less regulation.
Consumers Out in Front Against HR5034: In the 48 hours before the hearing, wine lovers like you sent 5,000 letters to Congress in opposition to the bill through www.freethegrapes.org. Thank you!
What's next? Wine Institute expects that the bill will most likely re-appear in the 2011 Congressional session. For more information on the bill, visit http://www.freethegrapes.org/index.php?q=HR5034
STATE NEWS
NEW MEXICO: Want Direct Shipping to Continue?
New Mexico is the last reciprocal shipping state in the U.S. and will likely consider the model direct shipping bill in January and February 2011, the language used in the majority of states for winery-to-consumer shipping. If you are a resident of NM, please forward this email to your neighbors and encourage them to join our mailing list at www.freethegrapes.org and fan us up on Facebook at www.facebook.com/FreetheGrapes.
Back in February 2008, Senate Bill 59, similar to the model bill, ran out of time and didn't have a vocal consumer constituency. However, SB 59 passed the Senate and was endorsed by the New Mexico Wine Growers Association, and received favorable testimony by the New Mexico Retailers Association and the New Mexico Restaurant Association. So let's make 2011 the year consumers stand up for choice in fine wine!