Fulcrum Summer Newsletter
Harvest is on it's Way!
Before harvest starts up we wanted to give a quick update on all of the events and happenings at Fulcrum. It's hard to believe our 8th harvest is right around the corner. This will be our last chance to talk with you for a while as the vineyards become our masters for the next three months or so. The grapes know no mercy!
This time we wanted to talk a bit more about the 2013 season ahead and let you know where we will be pouring our wines. We also have received some press lately that we thought you might like to see.
Cheers,
David and Christinna
---
The 2013 Harvest Season Begins
Due to warm weather in the Spring the vines came to life 2-3 weeks early and that has translated into an early harvest window this year. In fact, we just heard that Mumm will be picking tomorrow for sparkling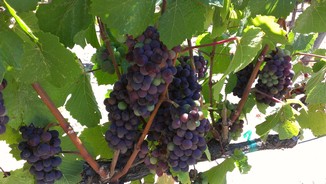 wines tomorrow in Napa! Sparking always harvests first because you only want 17-19 Brix(without getting technical, brix is a rough measure of sugar in the grapes) whereas still wines generally are harvested between 22.5 and 26 Brix.
Our first harvest will be at the Brosseau Vineyard in Chalone, Monterey County. It is always the first to be picked. Not because it is the hottest, but because the budbreak(awakening after winter) starts first and the vines receive plenty of UV light up in the dry hills of Chalone. The grapes are almost fully colored and we expect harvest between Labor Day and Sept 14th. Last year we picked on September 19th. We will be pruning off clusters that are less ripe and dropping them on the ground this week. This will leave us with only clusters that are at a equal level of ripeness and this will allow us to make a good decision on when to pick. We only pick the swales of the hills at Brosseau because the valleys of the vineyard are cooler and ripen later. We have really dialed in the picking at Brosseau and feel we can always make the right decision. Our other vineyards will be picked in the weeks following. You can keep track by liking us on Facebook or following us on Twitter (@Fulcrumwine) where we will give you harvest updates throughout the season.
---
Come see us in San Fran at Family Winemaker's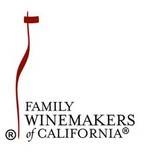 The California Family Winemaker's event is being held Saturday August 17th from 3-6pm in San Francisco at Fort Mason. It is a chance to try the wines of smaller family-run wineries in California. A very different feel versus events with large corporate wineries dominating the scene. This is our first year pouring, so come out and see David and the new wines. Tickets are $60.00, but since you are a Fulcrum Member you get 20% OFF. When ordering, enter Coupon Code FULFAM13 and you will get the discount.
Just go to the Family Winemakers site to get your tickets. See you there!
---
Fulcrum in the News
We have received a little ink(digital ink that is) over the last few weeks and we wanted to share it with you.
An article was written and our wines were reviewed by Ron Washam aka the Hosemaster of Wine. Yes, this is what the blog is called. It was actually voted best wine blog of the year. He is very funny and has a razor sharp wit, but he is also a Sommelier and knows his stuff when it comes to wines. Click here: It is a great read.
We also had three of our wines reviewed in Wine Enthusiast Magazine by Steve Heimoff. Very well written tasting notes that we think accurately describe the wines. Here they are:
2011 Gap's Crown Vineyard Pinot Noir (Sonoma Coast). 92 Points There's a sappiness to this Pinot, a molasses-like richness that's an indication of extreme youth. It's packed with pure, creamy plums, cherries and red currants, with hints of bacon and spices that add to the deliciousness factor. You're best off cellaring this polished wine for 5–6 years, to let it start to mellow. Cellar Selection.
2011 Brosseau Vineyard Pinot Noir (Chalone). 91 Points A thick, rich Pinot, broodingly closed despite a peacock's tail of red berries and currants that fans out across the palate. It finishes long and spicy. While the tannins are significant, they're soft and charming. It will not be surprising if this wine shows real development after 2016. Cellar Selection.
2011 Wildcat Mountain Vineyard Pinot Noir (Carneros). 91 Points So sweet and jammy, it's hard not to drink it up now, despite some firm tannins. Displays a rich spectrum of cherries, pomegranates and red currants, with exotic spices and the brown sugary sweetness of toasted oak. The finish is dry and elegant. A real beauty for drinking over the next five years.
---
Talk to you after Harvest
Thanks again to all of our members who ordered off of our pre-release offer. The wines have now been released for broader distribution. We will be busy with the harvest for the next three months, but if you have any questions or want to place an order you can still contact us at 732-610-9602 or email Christinna at christinna@fulcrumwines.com
Cheers,
David and Christinna Rossi
Fulcrum Wines
Napa, CA
tel: 732-610-9602
www.fulcrumwines.com