Fall Newsletter
"Each [Fulcrum] wine is so stellar that they are destined to become impossible to find in a year or two—when the word gets out."
Dan Berger's Vintage Experiences, October 24, 2013
Greetings from wine country. As I write this, our eighth harvest has drawn to a close, and we are excited to release our 2011 Fulcrum Anderson Valley Pinot Noir. Our debut 2006 Fulcrum Pinot Noir came from the Anderson Valley, so while we now make wines from several of California's finest Pinot appellations, I have deep winemaking roots among the foggy vine rows of Mendocino County. I had the pleasure of pouring our 2011 Anderson Valley Pinot Noir for noted wine writer Dan Berger recently, and was thrilled when he called it "One of the best Anderson Valley Pinot Noirs I've tasted and it will only get better (1-3 more years)." While we have never made wines for reviews, it is always rewarding to have our efforts recognized as benchmarks for their regions.
Because Christinna and I think there is no finer, and more versatile, Thanksgiving wine than Pinot Noir, we hope our Fulcrum wines will find a place on your holiday table, surrounded by family and friends. To help get them there in time for your celebrations, or as gifts, we are pleased to offer complimentary holiday shipping exclusively for our members, until December 10th.
To learn more about our complimentary shipping offer, the new 2011 Fulcrum Anderson Valley Pinot Noir, our most recent press, and the exciting 2013 harvest, read on!
Happy holidays!
David Rossi – Winemaker
---
Complimentary Holiday Shipping

If I could, I'd deliver our Fulcrum wines to your door personally. How fun would that be? I'd stop by, we could chat a bit, share a glass of wine. But since that's not a very practical plan, as a special holiday treat, I'm happy to offer complimentary ground shipping for our members until December 10th. Though we are already out of a couple of wines, we still have a spectacular lineup of 2011 vintage Pinots to select from. I love our 2011s! It was a growing season that effortlessly delivered our signature style of balance and complexity. There is a purity and poise to these bottling that lets the character of the vineyards sing. The wines were bottled in January, and they are already coming to life beautifully in the bottle.
To receive your complimentary shipping, simply sign into our website as a member, and then type HOLIDAY as your coupon code when making your purchase. Just remember, you must order by December 10th!
Again, some of our wines are already sold out, but we still have a small amount of the rest for your holiday pleasure, with all orders processed on a first-ordered, first-served basis. Here is our selection, and the quantities available:
Here is our selection and quantities available:
Gap's Crown, Sonoma Coast Pinot- Only 102 bottles left
Wildcat Mountain, Carneros Pinot- Only 34 bottles left
Brosseau Vineyard, Chalone- 56 bottles left
On Point Chalone Appellation- 32 bottles left
On Point Christinna's Cuvee- 28 bottles left
Fulcrum Anderson Valley- NEW!
When you go to our Online Store your login information is:
You can always call us at 732-610-9602 to place the order directly or email us at info@fulcrumwines.com

---
New Release-Fulcrum Anderson Valley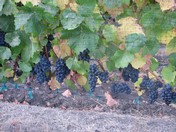 Though we now work with great vineyards in Russian River Valley, Carneros, Chalone and on the Sonoma Coast, our Anderson Valley bottling remains the keystone in our lineup of Pinots. The 2011 Fulcrum Anderson Valley Pinot Noir was sourced 100% from Larry and Shirlee Londer's acclaimed Londer Estate Vineyard, but because they sold the property in 2012, we decided not to put the vineyard name on the bottle. Larry and Shirlee are great friends, and passionate stewards of the vineyard, and we will greatly miss working with them. We hope you will join us in raising a glass of this special wine to celebrate all that Larry and Shirlee accomplished at Londer. Balanced, elegant, and filled with earth and black cherry notes, this lovely wine is exactly what we hope to achieve with grapes from the Anderson Valley. I invite you to read what Pinot Report and Dan Berger's Vintage Experiences have to say about our 2011 Anderson Valley Pinot Noir:
92 Points, PinotReport – "Medium-deep ruby color; deep, dusty cherry aromas with notes of herbs and anise; complex cherry and raspberry flavors with earthy and herbal notes; good structure and balance; long finish. Pretty, balanced Pinot with nice, subtle flavors."
Exceptional, Dan Berger's Vintage Experiences – "Bright red cherry florality and a freshness mark the aroma; the entry is juicy and succulent, but the acidity keeps the wine together. One of the best Anderson Valley PNs I've tasted and it will only get better (1-3 more years)."
---
Recent Press for Fulcrum
Christinna and I were thrilled when Dan Berger recently wrote a feature article about Fulcrum in his acclaimed publication, Dan Berger's Vintage Experiences. For those of you not familiar with Dan, he is one of the most respected wine writers in North America. In fact, he was recently honored by his peers, and industry professionals, as one of the "20 Most Admired People in the North American Wine Industry." Needless to say, having Dan call Fulcrum, a "New Pinot Star in Ascendancy" and "a stellar new entrant in the U.S. Pinot ranks because of superb quality," felt great. Here is what Dan had to say about our current releases, all of which he rated "Exceptional."
Exceptional – 2011 Fulcrum Brosseau Vineyard Pinot Noir: Dramatic aroma of wild cherry, spice, and a Burgundian note not unlike Gevrey-Chambertin. Deep and full-flavored and huge potential for 3-5 more years or more.
Exceptional – 2011 Fulcrum Gap's Crown Vineyard Pinot Noir: Perhaps the best of the Fulcrum wines. A wild earthy, minerally aroma has a note of violet and a regional complexity that David Rossi called "Gap-y." A truly great wine that is actually a bargain at the price.
Exceptional – 2011 Fulcrum Wildcat Mountain Vineyard Pinot Noir: Not the typical Carneros style of wine since the altitude of the vineyard gives the wine a cool- climate feel. There are notes of nutmeg/cumin (really it's a bit like Balkan Sobranie tobacco), a faint earthiness, and a red cherry mid-palate. Needs a few years.
Exceptional – 2011 On Point Chalone Pinot Noir: A second label of Fulcrum, also from Brosseau, this stellar wine has a bit less of the depth of the earlier wine and is a little more approachable. A bargain.
Exceptional – 2011 On Point Christinna's Cuvée Pinot Noir: Also from the Londer Vineyard, it has slightly more rustic notes, but the bright fruit of the earlier wine is evident, and the delicately rustic nature of the wine (along with a tad of tea) is based on the Swan Clone of PN. A bargain.
---
The 2013 Harvest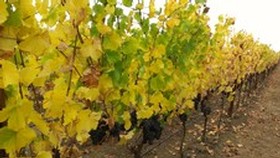 Well, we have wrapped up our 8th harvest, and it looks to be a great one. While we are not one of those wineries that claims every harvest is the "vintage of the century," after the challenging 2010, 2011 and 2012 seasons, 2013 delivered fairly ideal weather, fruit, and yields. It won't be until the late winter that we really understand the full potential of what we have in barrel, but early indicators and experience have me incredibly optimistic about the quality.
It was an early harvest, with our Brosseau Pinot Noir getting picked in August, which is a record for our earliest fruit in the winery. This was due to a warm spring that brought the vines to life early and set them on the path of early fruit set and ripening. With no spring frost issues, we set a full crop, and after a nice warm period during September (without many heat spikes), we saw ripe fruit with good acid and modest tannin—all in all, almost too good to believe!
This kind of harvest also makes for an easier time in the winery. The fruit was pristine, and we had to do very little to usher it though fermentation. While alcohols will be slightly elevated versus 2012, they won't be by much. Last year was what I called a "winemaker's year," where we really had to be on our game at every stage to deliver the quality we expect. This year, we just had to get out of the way and let the fruit carry the day. Less work and better quality? Sign us up every year! And with a slightly bigger crop, we were able to make close to 1,500 cases. That's still a small amount by the standards of most wineries, but it lets me keep everything completely hands on, and it's a long way from the 100 cases I made in 2006.
2013 also marked our exciting return to the Russian River Valley. We were able to pry a few fabulous tons of Pinot from Jim Landy, the owner of the renowned Landy Vineyard. Jim's property is next to the famed Rochioli Vineyard, and farmed to perfection. It's been a while since we have had a RRV offering, and now that we're back, we promise never to leave. We also sourced some of the sought-after fruit from Sangiacomo Vineyard in Lakeville, which we think will bring even more delicacy to our Sonoma Coast bottlings. More to come, as we taste through these exciting wines in the spring…
---
Thank you for your support this year and we wish you and your family a Happy Thanksgiving!
David and Christinna
Fulcrum Wines
Napa, CA
tel: 732-610-9602
www.fulcrumwines.com