Spring 2014 Newsletter
"I recommend any Pinot from Fulcrum Wines – whether Fulcrum label or On Point – that you are able to get your hands on. Pinot Noir aficionados deserve to know about these wines." - Mary Ewing-Mulligan, Wine Review Online
"Each wine is so stellar that they are destined to become impossible to find in a year or two—when the word gets out." - Dan Berger, Dan Berger's Vintage Experiences
"If you like Pinot Noir that is intent on purity and delicacy, on aromatics and subtlety, on the conversation between winemaker and vineyard, on Pinot Noir as the prettiest girl in the room, I think you'll like Fulcrum Wines."- Ron Washam, HoseMaster of Wine
---
In this Newsletter:
-Excitement Builds for Our 2012 Wines
-Introducing Donnelly Creek Vineyard
-Blending our Fulcrum and On Point Wines
-Balance
-The Chalone Appellation
-Great Recent Press
---
Excitement Builds for Our 2012 Wines
2014 marks the beginning of the 9th year since Christinna and I founded Fulcrum. Almost a decade ago, when we chose the name Fulcrum—which means the point on which an object balances—we were one of only a handful of wineries putting the idea of balance front and center. Today, the idea of balance has become central in any thoughtful discussion of great California Pinot Noir. On April 15th, we will be offering a special prerelease of our highly anticipated 2012 wines. While there is incredible excitement throughout the wine industry about the 2012 wines, the deep-rooted Pinot Noir lover in me always feels that any true assessment of a vintage comes over years as you watch the wines mature and evolve. This said, 2012 is a vintage that offers beautiful nuance and complexity. These are sophisticated, soulful wines. And of course, because they are Fulcrum wines, they are wines of balance, each with a distinctive sense of personality derived from the places they were grown.
---
Introducing Donnelly Creek Vineyard
This year, our 2012 Anderson Valley Pinot Noir and On Point Christinna's Cuvee was made using grapes from an exciting new addition to our vineyard portfolio – renowned winegrower Mary Elke's acclaimed Donnelly Creek Vineyard. Mary has been farming Pinot Noir since 1978, and planted Donnelly Creek in 1991. Like many of our vineyards, it's a warmer site in a cool region, which allows us to achieve the levels of ripeness we want, while ensuring the poise and restraint we love. The vineyard is composed of creek-side blocks of vines bordered by steeply terraced vines, and is planted with several different clones of Pinot Noir. We individually fermented three of these clones, allowing us to underscore the complexity of the site. With its effusive dark cherry notes, balanced acid and brooding layers of moist earth, there is an essential Anderson Valley-ness to the Pinot from Donnelly Creek that is incredibly compelling.
---
Blending our Fulcrum and On Point Wines
I often get asked how I approach the blending of our Fulcrum and On Point wines, and what the main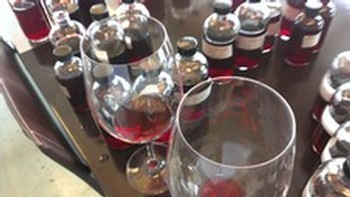 differences are between them since they come from the same exceptional vineyards. With both Fulcrum and On Point I strive to capture the meeting point between grace and strength, but each achieves this in a different stylistic way. Every barrel of wine is really an individual ecosphere, shaped by numerous factors including vineyard, clone, pick date, fermentation time and temperature, yeast selection and much more. As I evaluate each barrel, some will be darker, have more pronounced tannins and more complex structures. These become Fulcrum wines. Others will be more vibrant, with softer tannins and the immediately alluring personality that defines On Point. Again, these are stylistic distinctions, not quality ones, that showcase how eloquently diverse Pinot Noir can be, even from a single vineyard.
---
Balance
Back when we founded Fulcrum in 2005, there was very little talk about balance. These days, everyone talks about balance, but what does it really mean? For me, balance isn't something that can be boiled down to Brix levels, or alcohol and new oak percentages; it requires a more holistic view of viticulture and winemaking. At the heart of my vision for Fulcrum is the idea that more is not always better, and that a wine should offer a seamless combination of fruit expression, acid, tannin, alcohol, oak influence and age-worthiness. This has been the goal of my wines since day one. It is what excites me, and speaks to my palate as a winemaker and a wine lover. Simply put, I make the kinds of wines I love to drink and love to share with friends.
---
The Chalone Appellation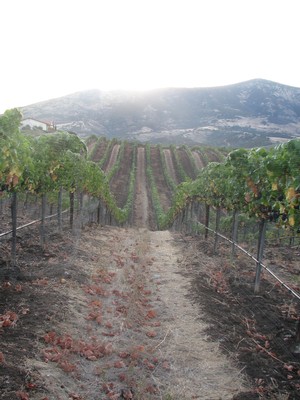 While I am not usually one to pick a favorite wine from a vintage, I will bet that our 2012 Brosseau Vineyard Pinot Noir, Chalone AVA will, be many people's pick for best wine of the vintage. It is ridiculously good. It's pure and gorgeous with a long, explosive finish that goes on forever. It is also a stunning example of what I love about the Chalone AVA. Located high in the Gabilan Mountains, between Monterey and San Benito counties, Chalone is a very small appellation with just six vineyards in it, totaling less than 300 acres of grapes. With so little fruit coming from the Chalone AVA, it's not as well known as it should be. The AVA has unique limestone and decomposed granite soils that stress the vines, concentrate flavors and impart a sophisticated minerality to the wines. At the same time, the AVA is above the fog line and has high daytime summer temperatures, but with very cool night-time weather—factors that preserve acidity and enhance balance. If you aren't familiar with this appellation, it's one I recommend you get to know.
---
Great Recent Press
As we prepare for the unveiling of our exciting 2012 wines, the great press for our 2011s continues rolling in:
Wine Review Online, Mary Ewing-Mulligan and Rich Cook
"Recalibrating My Pinot Noir Benchmarks"
"Thanks to David, I discovered a winery that was new to me, and well worth knowing." MEM
94 Points – 2011 Fulcrum Brosseau Vineyard Pinot Noir – "Only when I tasted the Fulcrum Brosseau Vineyard Pinot Noir did I appreciate the Chalone area Pinots…The wine's finish was rich and almost endless." MEM
93 Points – 2011 Fulcrum Gap's Crown Vineyard Pinot Noir RC
91 Points – 2011 Fulcrum Anderson Valley Pinot Noir RC
Wine Enthusiast, Steve Heimoff and Virginie Boone
92 Points; Cellar Selection; Excellent, Highly recommended – 2011 Fulcrum Gap's Crown Vineyard Pinot Noir SH
91 Points; Cellar Selection; Excellent, Highly recommended – 2011 Fulcrum Brosseau Vineyard Pinot Noir SH
91 Points; Excellent, Highly recommended – 2011 Fulcrum Anderson Valley Pinot Noir VB
91 Points; Excellent, Highly recommended – 2011 Fulcrum Wildcat Mountain Vineyard Pinot Noir – "A real beauty." SH
Dan Berger's Vintage Experiences, Dan Berger
"New Pinot Star in Ascendency"
"Rossi's wine brand, Fulcrum, is a stellar new entrant to U.S. PN ranks because of superb quality…the aromas, tastes, and structures of the wines are near-perfect and much better than most higher-priced PNs."
Exceptional – 2011 Fulcrum Gap's Crown Vineyard Pinot Noir – "A truly great wine."
Exceptional – 2011 Fulcrum Wildcat Mountain Vineyard Pinot Noir
Exceptional – 2011 Fulcrum Brosseau Vineyard Pinot Noir – "Deep and full-flavored…"
Exceptional – 2011 Fulcrum Anderson Valley Pinot Noir
Exceptional – 2011 On Point Chalone Pinot Noir – "Stellar wine."
Exceptional – 2011 On Point Christinna's Cuvée Pinot Noir – "Delicately rustic nature. A bargain."
The Tasting Panel, Anthony Dias Blue
92 Points; Outstanding – 2011 Fulcrum Brosseau Vineyard Pinot Noir
90 Points; Outstanding – 2011 Fulcrum Anderson Valley Pinot Noir
PinotReport, Gregory Walter
93 Points; Outstanding; approaching the best – 2011 Fulcrum Gap's Crown Vineyard Pinot Noir
92 Points – 2011 Fulcrum Anderson Valley Pinot Noir
91 Points – 2011 Fulcrum Brosseau Vineyard Pinot Noir
91 Points – 2011 Fulcrum Wildcat Mountain Vineyard Pinot Noir
91 Points – 2011 On Point Christinna's Cuvée Pinot Noir
90 Points – 2011 On Point Chalone Pinot Noir
90 Points – On Point Sonoma Coast Pinot Noir
HoseMaster of Wine, Ron Washman
2011 Fulcrum Brosseau Vineyard Pinot Noir – "This was my favorite of the Fulcrum Four…I just adored this wine."
2011 Fulcrum Wildcat Mountain Vineyard Pinot Noir – "Has elegance and style."
2011 Fulcrum Gap's Crown Vineyard Pinot Noir – "I thought this was beautifully rendered wine, with Fred Astaire-like masculine grace, and I was impressed by how the flavors lingered."
RJ on Wine, Richard Jennings
91+ Points – 2011 Fulcrum Gap's Crown Vineyard Pinot Noir
91 Points – 2011 Fulcrum Wildcat Mountain Vineyard Pinot Noir
90+ Points – 2011 Fulcrum Brosseau Vineyard Pinot Noir
1 WineDude, Joe Roberts
A- – 2011 Fulcrum Brosseau Vineyard Pinot Noir
A- – 2011 Fulcrum Gap's Crown Vineyard Pinot Noir

Fulcrum Wines
Napa, CA
tel: 732-610-9602
www.fulcrumwines.com