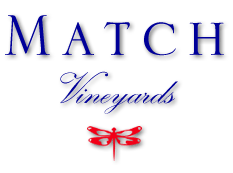 Happy New Year!
Or at least that's what I would have said if I'd written this email when I should have.
Enjoy your long weekend!
Oops, I missed both MLK AND President's Day.
Instead, I guess I'm stuck with saying Beware the Ides of March though that spooky warning probably means little to you unless you've defied the Senate.
But seriously, I do hope this email finds you and your family well, dreaming of spring back East or wondering if you'll even have winter out here in the West.
Now enough procrastinating!
I'm just pleased as punch to present to you the 2010 Match Vineyards Butterdragon Hill Cabernet Sauvignon.
The 2010 growing season gave Jim Barbour and his brilliant vineyard management team the opportunity to really earn the (rather significant) money we pay them to keep Butterdragon in world class shape. An unusually cool, foggy summer and rampant shoot and lateral growth required many passes to control mildew pressures and keep the canopy open and air circulating. However, opening the canopy, while helping with the predominantly cool temperatures, would prove to be a bit of a challenge when Napa experienced 3 day heat spikes on August 24 and September 28. It was sort of like going outside in the blazing sun without a cap on. The resultant dehydration reduced tonnage in what would otherwise have been a pretty big harvest. This unusual weather produced an unusual result for Napa: The grapes' seeds and flavors began to mature while the sugars accumulated more slowly. It usually occurs the other way, sugars first, then seeds and acids. As a result, ripeness was achieved at lower Brix which should be good news to some of you traditionalists. Harvest was October 21.
Vintner's Notes
Since immediately after the wines finished fermentation, I've suspected that our 2010 vintage wines were going to be among the best we've ever made. Now that the 2010 Butterdragon Hill is ready for release, my suspicions have been confirmed. Lovely, delicate floral aromas compliment the sweet, lush fruit we've come to expect from this vineyard. But unlike many previous vintages, the 2010 Butterdragon possesses a tight, tannic structure that will only be unlocked in the cellar. It's not an early drinking Butterdragon but the good news is we will be enjoying its power and grace for many, many years to come. We bottled 200 cases.
I'm continually humbled when I hear how our wines are part of your family's table and in a small way we are joining in your celebrations. Thank you for your continued support of our little winery.
Warmly,
Randy Sloan
Match Vineyards
Match Vineyards
3060 White Sulphur Springs Road,
St Helena, California 94574
USA