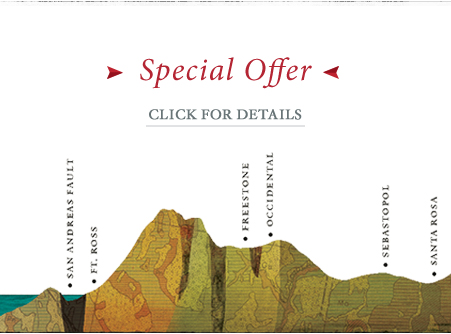 Welcome to the Fall 2014 Pre–Release Offering, the last allocation for our 2012 vintage wines, which has been heralded as a darling vintage among wine critics. In addition to offering you wines that have long been Red Car favorites, we are also thrilled to include the inaugural release of two wines from a vineyard located on one of the most storied roads in California: Taylor Lane, just west of Occidental. This pre-release allocation is your best opportunity to acquire the newest releases of our uniquely terroir driven, single-vineyard wines from this note-worthy vintage, including two of our highly anticipated Pinot Noirs: Zephyr Farms Vineyard and the Doc's Ranch Vineyard. We are also delighted to bring you our fifth vintage of the Vivio Vineyard Syrah, already a favorite of so many friends of Red Car, and, importantly, we are proud to introduce our Hagan Vineyard Pinot Noir and Chardonnay from our newest estate vineyard in the famed Occidental region of the West Sonoma Coast.
Occidental – A Region of Extremes
Occidental. The place that produced the first "world class" Pinot Noir from Northern California. And while no official AVA has yet been bestowed by the U.S. Department of the Treasury, few other new world areas are as well suited to growing nuanced Pinot Noir and Chardonnay, and even few can claim a history as colorful and complex. From the early Spanish and Russian settlers of the late 1700s and early 1800s, to the clear-cutting lumberjacks who helped supply the San Francisco building (and re-building) booms, and through to the famed counterculture communes of the 1960s, Occidental continues to excite those drawn to its pure, natural environment. It also happens to be ideal for cool climate viticulture, from dirt to air to sun.
Red Car's first experience in the Occidental region was with a Pinot Noir we call Heaven & Earth, from a site planted to our specifications in 2004. The 2007 vintage was dubbed one of the wines of the year for its varietal by a certain publication, helping accelerate the winery's reputation in this area. Since then, we have added additional vineyards along the hilltop ridges to the west of the Occidental hamlet. Doc's Ranch Vineyard was the first, followed soon after by our second estate vineyard, Hagan, which we are proud to release to you in this offer.
The extreme cool weather in Occidental enables us grow some of the highest quality Pinot Noir and Chardonnay in the county. But excellence comes at a big price: yields are extremely low, making our ability to share the fruits of our labor quite scarce. As a mailing list member of Red Car, we invite you to learn more about our small production vineyard designate Pinot Noir and Chardonnay from Occidental and nearby Freestone, along with our Syrah from Bennett Valley.
Allocations will be held until June 27th, at which point the remaining inventory will be sold on a first come, first served basis. To read in-depth information on each wine, please see below where you can click to view full tasting notes.
And now presenting…
The Wines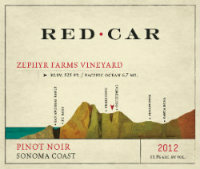 2012 Zephyr Farms Vineyard Pinot Noir
Carved out of the lows hills above Freestone, a tiny village on the West Sonoma Coast, sits the magical seven acre vineyard known as Zephyr Farms. Deep coastal fog and afternoon westerly winds yield tiny berries with thick skins, resulting in a wine that is highly perfumed and complex. This Pinot Noir is a wine of wonderful paradox as it combines concentration of fruit and spice with freshness on the palate. It has quickly risen up the ranks to become a house favorite with the Red Car team. The tannins are more pronounced than our other Pinot Noirs, attributable to the intense afternoon winds in the vineyard (Zephyr was the Greek god of the west wind). Yet, the mouthfeel and body of the wine remains delicate and silky.
Tastes: Raspberries, Asian Spices, Orange Peel
2012 Doc's Ranch Vineyard Pinot Noir
This organically farmed micro-vineyard of just 1.3 acres is nestled among coastal redwoods west of the hamlet of Occidental. Planted in 2001 exclusively to the aromatic Swan clone, it is one of our coldest vineyards with very low yields and extremely limited production. 2012 is the first vintage we have been able to produce more than a barrel of this wine and we invite our mailing list members to take advantage of this exclusive opportunity to add this seductively aromatic, lively and feminine Pinot Noir to their collection.
Tastes: Cherry Blossoms, Cranberries, Tangerine Zest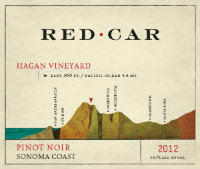 2012 Hagan Vineyard Pinot Noir
The Hagan Vineyard perches high above the edge of the continent fully facing the cold Pacific Ocean on the esteemed Taylor Lane west of Occidental. Dramatic, awe-inspiring and windswept, it produces wines of extraordinary complexity and perfume. Red Car leased this twelve acre vineyard in 2011. We made a thirty year commitment before half the vines even bore fruit and are proud to have utilized organic farming practices from the vineyard's inception. Along this tiny ridgeline are some of the most revered Pinot Noir vineyards in the country, including Summa Vineyard (the plot that put cool climate California Pinot Noir on the world map), Theiriot Vineyard from Littorai, and Evening Land's Occidental Vineyard. Here, at the end of the road just past these revered sites, lies our newest estate property.
Tastes: Pomegranate, Darjeeling Black Tea and Allspice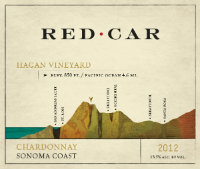 2012 Hagan Vineyard Chardonnay
The inaugural release of the 2012 Hagan Vineyard Chardonnay was harvested from a one and a half acre section planted to 100% Old Wente clone vines. This Chardonnay from the same renowned Taylor Lane ridgetop as its namesake Pinot Noir sister offers a refined profile of floral aromas, citrus and spiced pear fruit balanced with vibrant acidity. Production is quite limited for our newest estate wine, so we encourage our members to access their allocation while quantities are still available.
Tastes: Lemon Zest, Honeysuckle, Asian Pear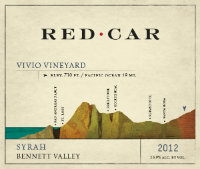 2012 Vivio Syrah
Vivio is our only vineyard growing in red volcanic soil, lending a distinct mineral edge to the Rhône varietals planted there. It lies in the path of the cool coastal fog as it enters Bennett Valley from the Petaluma wind gap. The 2012 Vivio Vineyard Syrah fiercely exhibits this tension between warm soil and cold climate showing herbs and spice components over fruit. This is a Syrah with finesse and balance that is built to age.
Tastes: Anise, Violets, White Pepper, Iron
Contact Jenny with questions or to place an order directly by calling (707)829-8500 x105 or emailing jenny@redcarwine.com

(facbook)

(twitter)

(instagram)
8400 Graton Road Sebastopol, CA 9542 | phone:707-829-8500 | redcarwine.com