Saturday, September 18th
2:00–5:00 pm
If you love Zinfandel, you'll want to join us at our beautiful Sonoma Valley Visitor Center as we kick-off harvest season with a Zinfandel-themed wine sale and barbecue that's not to be missed. Indulge in Executive Chef David Bush's mouthwatering grilled creations as you shop our extensive selection of premium Sonoma County Zinfandels. Special pricing will be offered for one day only—and only to those who attend this exclusive event. Bring your appetite and leave with a full wine cellar!
Reservations Required
Tickets are $25 per person, $20 for wine club members.
To reserve your tickets, call: (888) 675-WINE, ext. 259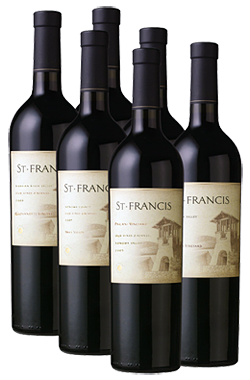 Now through August 20th

If you can't join us for our Zinfandel Sale & BBQ, you can still enjoy three outstanding vintages with our Zinphonatic 6-pack!
You'll receive two bottles each of these showstopping Zins:
2005 Old Vines Zinfandel
Pagani Vineyard, Sonoma Valley
Sonoma Valley's famed Pagani Vineyard is composed of vines planted in 1880 that continue to yield intensely flavored fruit. Unsurpassed in quality, Pagani Zinfandel is luxuriously fruity and full textured.
2006 Old Vines Zinfandel
Giovanetti Vineyard, Russian River Valley
An American classic, this Zinfandel is distinguishable by its deep red color, bright vigorous berry flavors and spicy notes of black pepper. Aging in American oak imparts extra depth and a lengthy finish.
2007 Old Vines Zinfandel
Tres Viejos, Sonoma County
Tres Viejos refers to the three family-owned vineyards where these Zinfandel grapes are grown. This garnet-hued Zin is a rich flavorful expression of true "old world style" Zinfandel.
Retail Price: $250 
Special Sale Price: $200
Club Price: $175
To place your order, please call our friendly wine experts at:
(800) 650-5437
*Phone orders only. Can not be combined with any other offer or discount. Shipping and tax not included in pricing above. See below for additional shipping information. Available while supplies last. Offer ends Friday, 8/20. Call today!

St. Francis Winery can currently ship wine directly to the following states:
AK*, CA, CO, CT, DC, FL*, GA, HI, IA, ID, IL,KS, LA, MI, MN, MO, NC, NE, NH, NM, ND, NV, NY, OR, SC, TN*, TX, VA, VT, WA, WI, WV, WY.
*Dry Counties in these states. Call for details.