Having trouble viewing this email? Click here to view it

WINE SHOP WINE CLUB INFORMATION RECIPES EVENTS
IN THIS NEWSLETTER
Holiday Gifts from Sonoma Valley
KJZY Happy Hour & Gift Boutique
"Best of Class" AND 3 Gold Medals
Optional December Club Shipment
---
ST. FRANCIS IN THE NEWS
Tidbits from Around the Web

St. Francis has…
"Small Plates that rival
the kitchen of any
Michelin-starred restaurant."

The Press Democrat's BiteClub calls St. Francis "the Valley's best bet" for Wine & Food Pairing.
READ THE ARTICLE
Check out what KZST radio host Brent Farris had to say about his recent Wine & Food Pairing experience at St. Francis!
LISTEN TO THE REVIEW
♦♦♦
St. Francis CEO Honored as
2011 Healthy Business Leader

Proud to be honored the 2011 "Healthy Business Leader", for our commitment to a healthy workplace!
READ THE ARTICLE
View the 2-minute video—complete with Van Halen song! SEE THE VIDEO
♦♦♦
Wine & Spirits Magazine to Feature
Two 91 Point Zinfandels

Look for our Sonoma County Old Vines Zinfandel and Tres Viejos Zinfandel in the magazine's "Year's Best American Zinfandels" feature this February!
♦♦♦
WineExpress.com names
RED SPLASH "Wine of the Day"

Food & Wine called it "One of the Best American Wines under $15". Now RED SPLASH is WineExpress.com's "Wine of the Day".
READ THE REVIEW
♦♦♦
Winery President Christopher Silva Talks Wine on the Rhine

St. Francis President Christopher Silva joins web radio personality Stuart Cohen to talk wine aboard the MS AmaDante—all the way from Germany!
LISTEN TO THE SHOW
♦♦♦
Our Summer Contest Winners
"Turn Up the Heat"

Grillmaster Renata Stanko's combination of "Short Ribs Flanked with Tamarind" paired with our Sonoma County Cabernet Sauvignon takes top-honors.
SEE THE WINNERS
♦♦♦
Going Once…Going Twice…
SOLD FOR $6,000

St. Francis Executive
Chef David Bush was auctioned-off at ReSurge International's 4th annual Transformations Gala in San Francisco.
LEARN MORE
♦♦♦
The 2011 Harvest Began
Monday, September 26th

Read about the 2011 vintage—and the tradition of Harvest in Sonoma as it approaches its third century.
READ THE LETTER
♦♦♦
BIG Congratulations to "Max"
2011 Winery Dog of the Year

St. Francis was pleased to crown Max the 2011 Winery Dog of the Year at our annual Blessing of the Animals event.
MORE ABOUT MAX
---
FACEBOOK
PHOTO FEATURES
Online Photo Galleries

View the growing season of a single
Sonoma Valley
Syrah Vine—from
bud-break to barrel.
SEE THE PHOTOS
♦♦♦


Guests sipped, nibbled and enjoyed live music at our 2nd annual Zinfandel Sale & Harvest BBQ.
SEE THE PHOTOS
♦♦♦


Beloved pets of all sizes were in attendance for the 2011 Blessing of the Animals—our biggest blessing event ever!
SEE THE PHOTOS
♦♦♦


View dozens of spectacular photos from the 2011 harvest.
SEE THE PHOTOS
♦♦♦


Each morning, the first visitor to our tasting room selects their favorite wine to be our featured "Wine of the Day."
SEE THE PHOTOS
---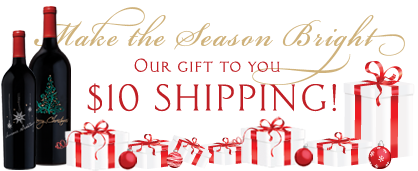 'Tis the season for celebration and giving, and St. Francis has everything you need to stock up for holiday festivities and gifting. Choose from a large assortment of beautifully packaged holiday gift sets and festive etched bottles, and let us ship your gifts directly to your friends, family and colleagues for just $10 each!
Choose from two, three and six bottle collections, as well as our famous Port & Chocolates, presented in handsome, eco-friendly gift boxes.
And don't forget about our popular Etched Holiday Bottles—each one meticulously hand-painted with a festive holiday greeting. View all of our great gift ideas HERE.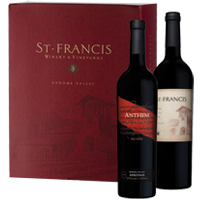 To place your order, call our friendly wine experts at:
(800) 650-5437
or Order Online
$10 shipping limited to select pre-packaged gift sets and applies to standard Ground shipping only. Price is per item. Upgraded 2-day or overnight shipping available on phone orders only at additional cost. Shipping & tax not included. Certain shipping restrictions apply. Visit www.stfranciswinery.com/holidays for details.
---
KJZY HAPPY HOUR & HOLIDAY GIFT BOUTIQUE
Thursday, December 8, 2011
Join us THIS THURSDAY as we host Happy Hour with radio station KJZY. Enjoy live jazz music as you sip fantastic St. Francis Wines by the glass, nibble delicious food by Bruno's Restaurant and browse a large selection of unique holiday gifts.
Date: Thursday, December 8, 2011
Time: 5:30 – 8:00 pm
Price: FREE
VISIT THE WEBSITE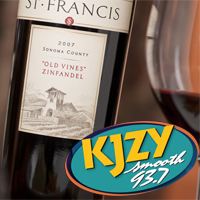 ---
ANNUAL "ODE TO CRAB" WINERY DINNER
Saturday, December 17, 2011
Limited seating is still available at our annual Ode to Crab Winery Dinner.
Join us as Executive Chef Dave Bush celebrates the start of the Northern California Crab season with a menu featuring all things crab. This crustacean centric dinner has been one of our most popular events over the years. Chef Dave brings Crab Dinner to a whole new level, with every gourmet course carefully paired with a St. Francis Artisan wine.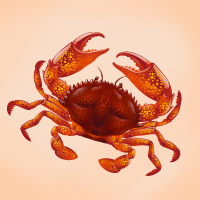 Date: Saturday, December 17, 2011
Time: 6:30 pm
Price: $125 public, $99 wine club members (+tax +gratuity)
Reservations: (888) 675-WINE (9463), ext 259
---
2010 SONOMA COUNTY CHARDONNAY
RECEIVES "BEST OF CLASS"
2011 Sonoma County Harvest Fair
St. Francis Winery was the proud recipient of 3 Gold Medals at the 2010 Sonoma County Harvest Fair, including "Best of Class" for our 2010 Sonoma County Chardonnay.
Our Founder Joe Martin was also honored with a Lifetime Achievement Award for his contributions to our industry.
CLICK HERE
to view all the award-winners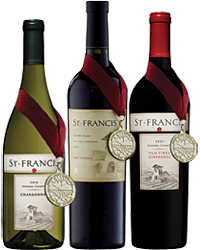 ---
WINE CLUB UPDATE
Don't Miss This Amazing Optional Club Shipment
St. Francis is excited to offer club members an optional December club shipment, containing two of our most popular and exclusive Zinfandels—just in time for the holidays!
You must opt-in to receive this shipment!
Only $68 (reg. $85)
Excludes tax & shipping
CLICK HERE to opt-in quickly by email,
or call our Wine Club Associates at: (800) 650-5437
2009 Zinfandel
Montecillo Vineyard
Sonoma Valley
2009 Old Vines Zinfandel
Pagani Vineyard
Sonoma Valley

Loaded with complex flavors and jammy fruit, with aromas of huckleberry and licorice, and flavors of plum and black pepper.

A distinctive Zinfandel boasting aromas of pomegranate and cherry with lingering flavors of supple wild berry and toasty dill on the palate.
Order by December 10th to ensure delivery before Christmas!
Club members are scheduled to receive the Montecillo and Pagani Zinfandels in future club shipments, but both are extremely limited and are sure to sell out quickly upon release. We are unable to ship this club selection to the following states: AZ, IN, OH, MA, NJ. Please call for details.
Not a Wine Club Member?
Click HERE to learn more about the benefits of Club membership.
---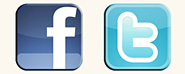 KEEP UP WITH THE LATEST WINERY NEWS
The best way to stay up to date with the latest happenings from around the Winery is to connect with us on Facebook and Twitter.
Interact with our winemakers and over 7,000 other St. Francis fans, share a comment or photo, learn about upcoming events or take advantage of special offers and promotions. There's always something new to see or read.
Click HERE to become a fan of St. Francis Winery on Facebook.
Click HERE to follow us on Twitter!
shop online | events | wine club | recipes | winery | visitors center | directions
WA State Permit # 082790
UPDATE YOUR EMAIL PREFERENCES / UNSUBSCRIBE FROM MAILINGS