WINE SHOP WINE CLUB INFORMATION RECIPES EVENTS
IN THIS NEWSLETTER
Our First Ever Luxury Bacon Dinner
Stars Under the Stars Film Festival
Online Photo Features & Galleries
---
ST. FRANCIS IN THE NEWS
Tidbits from Around the Web

93 POINTS from Wine Enthusiast

Wine Enthusiast recently awarded our 2009 Pagani Zinfandel 93 points! Look for this wine to be released this summer.
VIEW RECENT ACCOLADES
♦♦♦
Our Old Vines Zinfandel:
Wine Spectator's "Best of the West"

Wine Spectator declared our 2009 Sonoma County "Old Vines" Zinfandel as one of the "Best of the West for $25 or Less" in the magazine's April 30th edition.
BUY NOW!
♦♦♦
St. Francis Wine & Food Pairing
"…an experience not to be missed"

Food writer John Compisi describes Chef Dave Bush's pairings as "almost a spiritual experience."
READ THE ARTICLE
♦♦♦
Promise of Springtime
A letter from Winery President Christopher Silva

Winery President Christopher Silva reflects on the fading winter and shares his thoughts about the upcoming growing season. (PHOTOS)
READ THE LETTER
♦♦♦
2012 Sonoma Valley
Regional Pruning Competition

Our vineyard crews showcased their talents at the 13th annual Sonoma Valley Regional Pruning Contest. Check out the action in this video recap!
WATCH THE VIDEO
♦♦♦
Weddings at St. Francis Winery

Watch this gorgeous video by Aaron Lee Films, shot on location at St. Francis. Looking for the perfect venue? Your search is over!
WATCH THE VIDEO
♦♦♦
Sipping with the Saints

Our very own St. Francis of Assisi statue graced page 17 of the February issue of Wine Enthusiast magazine.
♦♦♦
St. Francis Winemaking Team
Takes Home the Gold

Congratulations to our Winemaking team for taking home two Gold Medals and a Double Gold at the 2012 San Francisco Wine Competition!
SEE THE WINNERS
♦♦♦
Winemaker Video Notes
Sonoma County Claret

Winemaker Katie Madigan shares some tips and information about our popular Sonoma County Claret in this quick 2-minute video.
WATCH THE VIDEO
---
FACEBOOK
PHOTO FEATURES
Online Photo Series
The Faces of St. Francis

Every Wednesday, meet a new member of the St. Francis Team.
SEE THE PHOTOS
♦♦♦
Monday Morning Views
from the Visitor Center

Each Monday, take a moment to visit St. Francis Winery through the lens of Erica Petersen's Canon EOS.
SEE THE PHOTOS
♦♦♦
Corkscrew Trivia

Uncork your weekend with a fun trivia question each Friday on our Facebook page, for the chance to win a St. Francis logo corkscrew.
TEST YOUR KNOWLEDGE
♦♦♦
Wine of the Day


Each day a lucky visitor to our tasting room gets to choose the "Wine of the Day" and we snap their photo to show off on our Facebook page.
SEE THE PHOTOS
---
KEEP UP WITH THE
LATEST WINERY NEWS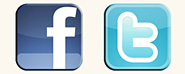 The best way to stay up to date with the latest happenings from around the Winery is to connect with us on Facebook and Twitter.
Interact with our winemakers and over 10,000 other St. Francis fans, share a comment or photo, learn about upcoming events or take advantage of special offers and promotions. There's always something new to see or read.
Click HERE to become a fan of St. Francis Winery on Facebook.
Click HERE to follow us on Twitter!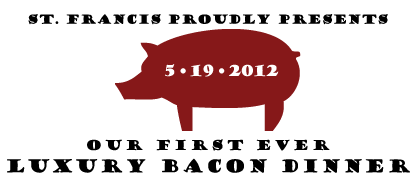 Join Us Saturday, May 19, 2012
Executive Chef Dave Bush celebrates the wonders of bacon at our first ever Luxury Bacon Dinner!
DATE: Saturday, May 19, 2012
TIME: 6:30 pm
PRICE: $99 Wine Club Members, $125 Public (+ tax & gratuity)
RESERVATIONS: 800-650-5437
EMAIL: events@stfranciswinery.com
MENU: Click HERE to see what Chef Bush has planned.
---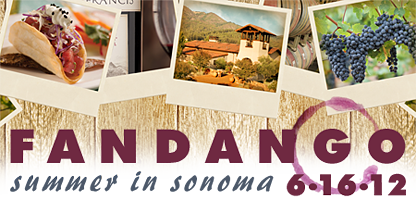 Save the date for Saturday, June 16th, as we celebrate "Summer in Sonoma" at Fandango 2012! Don't miss an unforgettable wine and culinary experience, featuring new releases, barrel samples, limited library wines, delicious summer fare, live music, raffle prizes and more.
Reserve Your Tickets Today
• Wine Club Exclusive Event •
Must be 21 to attend
Saturday, June 16, 5–8:30 pm
$35 club members, $65 guests of members
(800) 650-5437
---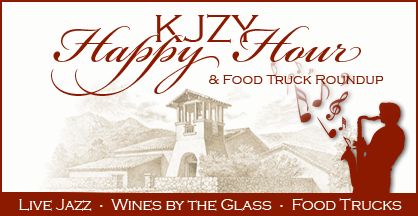 Join us as we host Happy Hour with radio station KJZY. Enjoy live jazz while you sip St. Francis wines and nosh on goodies from a variety of Sonoma County's favorite gourmet food trucks.
DATE: Thursday, May 24, 2012
TIME: 5:30 – 8:00 pm
PRICE: Admission is FREE!
Wine by the glass & food available for purchase.
---
NEVER MISS ANOTHER WINERY EVENT!
Subscribe to Our New Calendar of Events
With just one click, you can add the St. Francis Winery calendar of events to your email or smartphone calendar! Simply click the icon below that matches your email service and all of your favorite upcoming events will magically appear on your calendar. Isn't technology amazing!
CLICK YOUR CALENDAR SERVICE TO SYNC WITH US:
---
CONGRATULATIONS TO
SHARON W. OF MASSACHUSETTS!
Grand Prize Winner in Our Dream Date Sweepstakes
St. Francis Winery is pleased to congratulate Sharon W. of Newton, Massachusetts—grand prize winner in our Sonoma Wine Country Dream Date Sweepstakes! Sharon and her guest will be joining us for a relaxing VIP weekend in Sonoma Valley, including luxury accomodations at MacArthur Place Inn & Spa, and dinner at Sonoma's famed girl & the fig restaurant.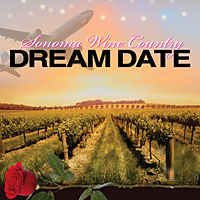 Second place honors went to Rita L. of Willamina, OR and Jerry W. from Urbandale, IA. They'll each be treated to a "Hometown Dream Date".
Didn't win? Don't worry—stay tuned to our Facebook Page as we roll-out more contests, sweepstakes and chances to win great prizes all summer long, including another trip to visit us in wine country!
---
3rd ANNUAL ST. FRANCIS SUMMER FILM FESTIVAL
"Stars Under the Stars"
Stellar wines paired with silver screen icons al fresco!
Join us Thursday nights this summer as we enjoy some of the greatest movies of all time, outside on the lawn of our beautiful Sonoma Valley Visitor Center. The evening begins with live music from some of the Bay Area's favorite bands. Then, guest sommelier Christopher Sawyer will introduce and pair our world class wines with a great lineup of world class films.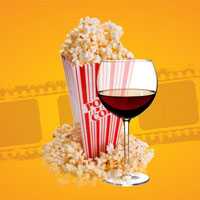 Featured wines are available for purchase. Chicago Style Hot Dogs will be on hand every night, and Executive Chef David Bush will be offering baked treats from the kitchen.
Bring a picnic and blanket for the lawn. Admission is FREE.
Festival runs every Thursday evening, July 12 – August 16
6:30 pm music & reception ~ Films begin as light permits
Blazing Saddles
Starring Cleavon Little & Gene Wilder (1974)
Thursday, July 12, 2012
Pre-show concert by: Jay Blue
Alfred Hitchcock's Rear Window
Starring James Stewart & Grace Kelly (1954)
Thursday, July 19, 2012
Pre-show concert by: Phil Berkowitz & The Dirty Cats
Top Gun
Starring Tom Cruise (1986)
Thursday, July 26, 2012
Pre-show concert by: Band Camp
Mamma Mia
Starring Meryl Streep & Pierce Brosnan (2008)
Thursday, August 2, 2012
Pre-show concert by: The Cork Pullers
Groundhog Day
Starring Bill Murray (1993)
Thursday, August 9, 2012
Pre-show concert by: Tumbao
American Beauty
Starring Kevin Spacey (1999)
Thursday, July 16, 2012
Pre-show concert by: Nat Keefe of Hot Buttered Rum & Friends
---
PATRONS SOCIETY UPDATE
May Wine Club selections will begin shipping on May 9th. Below is a sneak peek at the three extraordinary wines we've chosen for Club Members. Please note the wines you receive will depend on your Club level and state of residence. For details and to view the entire 2012 schedule, click HERE.

'08 Cabernet Franc
Sonoma County
Our Cabernet Franc combines aromas of black olive, violet and grilled herbs with flavors of smoked bacon, red plum and tart cherries. Firm tannins add structure and depth.

'09 Old Vines Zinfandel
Rowe Vineyard
Sonoma Valley
Sleek and jammy, offering aromas
of candied cherry, fresh mint and pomegranate syrup, this wine is juicy, rich and layered with flavors of raspberry and tea leaves.

'10 Chardonnay
Wild Oak
Sonoma County
Aromas of apple and pear combine with hazelnut and Mayer lemon. This is a bright and balanced Chardonnay with a silky texture and zesty citrus finish.
Not a Wine Club Member?
Click HERE to learn more about
the benefits of Club membership.