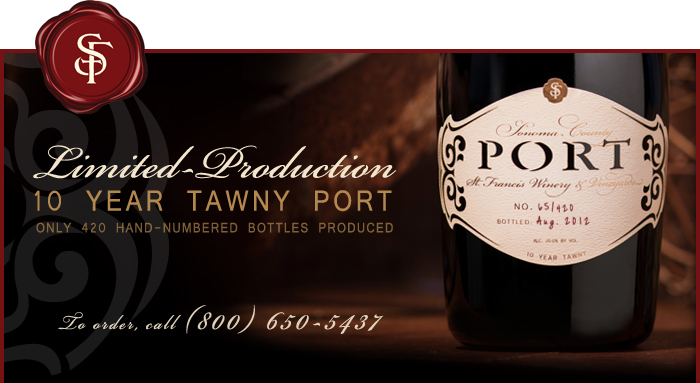 To commemorate the 10th vintage of our luscious Sonoma County Port, we produced just 420 bottles of a special 10-Year Anniversary Port—a Tawny-style blend comprised of select barrels set aside from each vintage of Port made since 2001. Barrel-aged much longer than our vintage Ports, this 10-year Tawny has deep toasty aromas and a rich, dark caramel-like sweetness.
Each wax-dipped 500ml bottle has been numbered and dated by hand. Add this collector's item to your cellar, or pick up a bottle or two for holiday gifts and celebrations. Act quickly—these beautiful bottles will sell out very quickly!
Don't miss out on this unique collectible wine!
With only 420 bottles made, it will sell out.
Reserve yours now.
Bottle Price: $60, club $48
Call (800) 650-5437 to order
CLUB MEMBERS ENJOY ONE-CLICK SHOPPING!
Simply click the number of bottles you wish to purchase.
We'll charge your club account and ship them to the address on file!

Unfortunately, we are unable to ship this wine to AZ, NJ, OH.
Tax & shipping not included in pricing above. Call for details: (800) 650-5437.
We can ship wine to the following states: *AZ, AK, CA, CO, CT, DC, FL, GA, HI, IA, ID, KS, IL, IN, LA,
*NJ, MD, MI, MN, MO, NC, ND, NE, NH, NM, NV, NY, *OH, OR, SC, TN, TX, VA, WA, WI, WV, WY
*Sorry, but this wine is not available in AZ, NJ, OH.
WA State Permit # 082790