WINE SHOP WINE CLUB INFORMATION RECIPES EVENTS
IN THIS NEWSLETTER
'TURN UP THE HEAT' Grilling Contest
10th Annual Blessing of the Animals
Lulu Powers Book Signing Event
Photo Galleries from Recent Events
---
ST. FRANCIS IN THE NEWS
Tidbits from Around the Web



"From Lawyer to Vintner"
Christopher Silva Interview

Sunday's New York Times featured an exclusive interview with St. Francis President Christopher Silva.
READ THE STORY
♦♦♦
"Sex & the City"
Auction Lot is the Talk of the Town

Four women will enjoy deluxe San Francisco hotel accommodations, a $4000 shopping spree, spas, limos, helicopters, food, wine… and a VIP dinner with a Sex & the City lead actor. Ladies, start your bidding!
READ THE STORY
♦♦♦
The Perfect Pair:
Old Vines Zinfandel & BBQ

Food & Wine magazine's Ray Isle stopped by NBC's Today Show recently to tell America how well our Zinfandel pairs with grilled foods.
WATCH THE SEGMENT
♦♦♦
St. Francis Feature Article

The 15th anniversary issue of Touring & Tasting Magazine features a nice write-up on our Sonoma Valley Visitor Center.
READ THE STORY
♦♦♦
From Wine Spectator:
Charles Way "Turns Up the Heat"

Former New York Giants fullback Charles Way will help judge our "Turn Up the Heat" summer grilling contest!
READ THE STORY
♦♦♦
St. Francis Chardonnay Featured on
"View from the Bay"

Alyssa Rapp, founder of Bottlenotes.com visited ABC's View from the Bay to pair grilled foods with wine, including St. Francis Chardonnay.
WATCH THE SEGMENT
♦♦♦
St. Francis Winery
"A Celebration of the Senses"

St. Francis Winery was featured in a recent issue of Wine Country This Week.
READ THE STORY
♦♦♦
St. Francis Girls' Guide to Grilling a
"Feminine Grilling Bible"

Erica Bethe Levin of NBC Chicago touts Elizabeth Karmel's FREE St. Francis Girls' Guide to Grilling as a "feminine grilling bible".
READ THE STORY
---
BOOK SIGNING EVENT
WITH LULU POWERS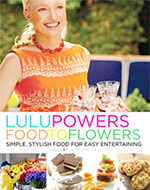 Saturday, September 25
12:00 – 4:00 pm
Since founding her catering company in 1994, St. Francis friend and chef to the stars Lulu Powers has become one of the most sought after caterers, delighting clients such as Will and Jada Pinkett Smith, Madonna and Bill Clinton with her inspired take on entertaining, investing every detail, from food to decor, with distinctive sparkle and personality. Join us as we welcome her to the winery on September 25 for an afternoon of book signing in our tasting room.
Check out Lulu's WEBSITE, where you can purchase her new book Food to Flowers and browse a selection of her simple stylish recipes.
---

Club Members from all over the country recently descended upon Sonoma Valley to party Hawaiian-style at Fandango 2010.
SEE THE PHOTOS
♦♦♦


St. Francis recently welcomed hundreds of guests to our first annual "Stars Under the Stars" outdoor film festival.
GALLERY 1 GALLERY 2
♦♦♦


A fantastic time was had by all who attended our third annual Wine Club Lobster Feed on Saturday, July 31.
SEE THE PHOTOS
---
KEEP UP WITH THE
LATEST WINERY NEWS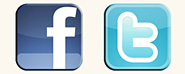 The best way to stay up to date with the latest happenings from around the Winery is to connect with us on Facebook and Twitter.
Interact with our winemakers and nearly 2,500 other St. Francis fans, share a comment or photo, learn about upcoming events or take advantage of special offers and promotions. There's always something new to see or read.
Click HERE to become a fan of St. Francis Winery on Facebook.
Click HERE to follow winemakers Heather Munden and Katie Madigan on Twitter!


Heather Munden
Katie Madigan
---

Available this week only, bring home three outstanding Sonoma County Zinfandels with our Zin-fanatic 6-pack! And if you love Zinfandel, you don't want to miss our Zinfandel Sale & Harvest BBQ—details HERE.
You'll receive two bottles each of these show-stopping Zins:
2005 Old Vines Zinfandel
Pagani Vineyard, Sonoma Valley
Unsurpassed in quality, Pagani Zinfandel is luxuriously fruity and full textured.
2006 Old Vines Zinfandel
Giovanetti Vineyard, Russian River
Deep red color, bright vigorous berry flavors and spicy notes of black pepper.
2007 Old Vines Zinfandel
Tres Viejos, Sonoma County
This garnet-hued Zin is a rich flavorful expression of true "old world style".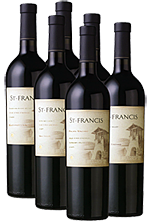 Retail Price: $250
Special Sale Price: $200, Club Price: $175
To place your order, please call our friendly wine experts at:
(800) 650-5437
Phone orders only. Can not be combined with other offers or discounts. Shipping & tax not included. Certain shipping restrictions apply – call for details. Offer ends Friday, 8/20.
---
Last Call for Entries…
"TURN UP THE HEAT" GRILLING CONTEST ENDS 8/31
Enter to Win a Trip to Visit Us in Sonoma
Got an amazing grilling recipe? Film it and tell us why it's the perfect pairing with a St. Francis wine for the chance to win a trip for two to visit us here in Sonoma. You only have two weeks left to show us your BBQ skills—so get grillin' and be on YouTube!
Click HERE for contest details, grilling tips and pairing suggestions from grilling guru Elizabeth Karmel.
Check out the competition in our Facebook video gallery HERE.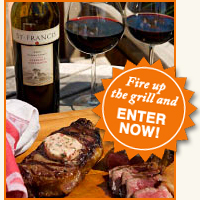 ---
ANNUAL "DINNER UNDER THE STARS"
This Saturday – August 21, 2010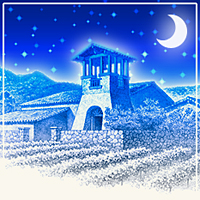 There is still limited seating available for our annual Dinner Under the Stars this Saturday evening.
This event is a perennial favorite with locals and club members alike. Enjoy a warm summer evening under a magnificent Sonoma sky as we dine al fresco on our Syrah Patio at the edge of Wild Oak Vineyard. St. Francis Executive Chef David Bush's superb wine and food tasting MENU will only add to the evening's sparkle.
Date: Saturday, August 21, 2010
Time: 6:00 pm
Price: $125 public, $99 wine club members (+tax +gratuity)
Reservations: (888) 675-WINE (9463), ext 259
---
SONOMA WINE COUNTRY WEEKEND
St. Francis Celebrated as 2010 "Honorary Chair"
An epicurean event unlike any other, Sonoma Wine Country Weekend combines the sophistication and style of Taste of Sonoma, with the festivity and fundraising of the Sonoma Valley Harvest Wine Auction for three unforgettable days of celebration. This year, St. Francis Winery has been selected as the Honorary Event Chair in recognition of our significant contribution to advancing the image of Sonoma Valley's grapes and wines.
We hope you'll join us in celebration as we take part in the weekend's beach-themed festivities in true laid-back "Sonoma Style". This event benefits many local charities including Redwood Empire Food Bank, Boys & Girls Clubs of Sonoma and Vineyard Workers Services.
Look for us at the following events:
Taste of Sonoma (9/4) — MacMurray Ranch, Healdsburg DETAILS & TICKETS
Honorary Chair Dinner (9/4) — St. Francis Winery DETAILS & TICKETS
Harvest Wine Auction (9/5) — Cline Cellars, Sonoma DETAILS & TICKETS
Learn more and see the entire Sonoma Wine Country Weekend event schedule at www.sonomawinecountryweekend.com
---
If you love Zinfandel, you'll want to join us at our beautiful Sonoma Valley Visitor Center as we kick-off harvest season with a Zinfandel-themed wine sale and barbecue that's not to be missed. Indulge in Executive Chef David Bush's mouthwatering grilled creations as you shop our extensive selection of premium Sonoma County Zinfandels. Special pricing will be offered for one day only—and only to those who attend this exclusive event. Bring your appetite and leave with a full wine cellar!
Reservations Required
Date: Saturday, September 18, 2010
Time: 2:00 – 5:00 pm
Price: $25 per person, $20 for wine club members
Reservations: (888) 675-WINE, ext. 259
---
10th ANNUAL BLESSING OF THE ANIMALS
Sunday, October 3, 2010
Take part in our 10th annual Blessing of the Animals event by bringing your best furry friend to be blessed here at the winery. If you have a dog, plan to show it off by participating in our "Winery Dog of the Year" contest. We'll have wine, nibbles, special guests and fabulous raffle prizes donated by local pet-friendly businesses. All proceeds from this event go to support the Sonoma Humane Society. Admission is FREE!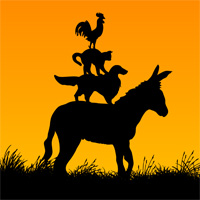 Date: Sunday, October 3, 2010
Time: 3:00 – 5:00 pm
Price: FREE
Phone: (888) 675-WINE, ext. 259

Check out photos from last year's event HERE.
---
WINE CLUB UPDATE
September Wine Club selections will begin shipping on September 14th. Below is a sneak peek at the four extraordinary wines we've chosen for Club Members. Please note the wines you receive will depend on your Club level and state of residence. For details and to view the entire 2010 schedule, click HERE.


'07 Zinfandel
Nuns Canyon Vineyard
Sonoma Valley

From our very own Nuns Canyon Vineyard perched high on the western slopes of the Mayacamas Mountain Range comes this deeply-colored Zinfandel with dark, jammy blackberry flavors and notes of toasty oak.



'06 Red Wine
Cote du Sonoma
Sonoma County
Inspired by the dense, fragrant blends produced in France's Rhone Valley, this rich flavorful blend is made up of a unique collection of grapes from several Sonoma County appellations.
__________________________________________________________


'05 Syrah
Wild Oak
Sonoma County
Aromas of huckleberry and cassis are intermingled with intriguing notes of melba toast and incense. Full-bodied with luscious flavors of blackberry sauce and anise seed.



'08 Viognier
Catie's Corner Russian River Valley

This Rhone varietal exhibits a deep yellow hue and intoxicating aromas. Fruit forward and saturated with apricots, peaches and honeysuckle.
Not a Wine Club Member?
Click HERE to learn more about the benefits of Club membership.
shop online | events | wine club | recipes | winery | visitors center | directions
WA State Permit # 082790
UPDATE YOUR EMAIL PREFERENCES / UNSUBSCRIBE FROM MAILINGS