Action Update #1
April 27, 2011
In This Update
• Editor's Note
• WSJ Slams HR 1161
• How To Take Action
---
Use This Image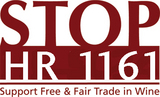 ---
Latest News
Congress's Sour Grapes
Wall Street Journal
H.R 1161: The Great Constitutional Head Fake
Wendall Lee, Shipcompliant Blog
Alcohol Bill Splits Industry, Campaign Contributions
KCET
The Beer Wholesalers' Hoodwinking of Congress
Fermentation: The Daily Wine Blog
---
Send Us Your News & Tips
Do you have news related to H.R. 1161? Do you want to tip us off to information that needs to be published in this newsletter or investigated? Let us hear from you!
CLICK TO EMAIL
---
Don't Forget…
• Visit the Stop1161.org website for frequent updates on the status of the bill.
•Ask your friends to sign up for these Alerts by sending them this link: http://www.stop1161.org/join-the-movement.html
---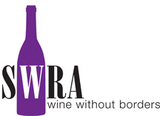 Specialty Wine Retailers Association is an organization of progressive brick and mortar wine retailers, Internet wine retailers, auction houses and wine clubs who advocate for free and fair trade in wine with the goal of opening legal and well regulated channels through which wine retailers and consumers can undertake commercial relationships.
Learn More about SWRA
Editor's Note: It's Critical to Help Stop HR 1161!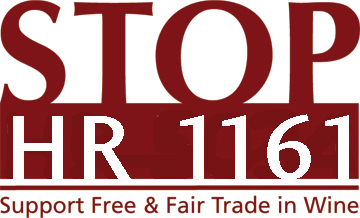 While the bill known as HR 5034 was killed in committee last year without a vote being taken, it should be no surprise that those seeking to erect barriers to trade are at it again.
The National Beer Wholesalers of America, supported by the Wine & Spirit Wholesalers of America, worked to get HR 1161 introduced into the U.S. House of Representatives in March. As of this writing, they have accumulated 57 sponsors of the bill. As with last year's bill, HR 1161 would, if passed, give states free reign to erect trade barriers that discriminate against out-of-state wine stores, severely limit how wineries can transact business with consumers, and generally limit wine consumers to the selection of wines that wholesalers choose to bring into a state.
The Specialty Wine Retailers Association, along with nearly every wine, beer and spirit producers association in America, as well as the importers of alcoholic beverages oppose H.R. 1161 and are working to stop the bill just as they did last year with H.R 5034.
Wholesalers are putting on a full court press to get another hearing on their commerce killing bill in the House Judiciary Committee and to ultimately see the bill pass. If it does, it would be among the most radical commerce-related bills the U.S. Congress has passed in two centuries.
I urge you to contact your colleagues, friends, social media friends and fans and your congressional representative and urge them to oppose H.R. 1161.
Tom Wark, Executive Director
Specialty Wine Retailers Association
---
Wall Street Journal Slams HR 1161
On April 26th the Wall Street Journal issued an editorial that

slammed H.R. 1161. The importance of this editorial can't be under emphasized given the influence of the Wall Street Journal both on Wall Street and on Capitol Hill.
In the editorial, the Wall Street Journal Editorial Board noted that if passed, H.R. 1161 would "reduce choices and raise prices for consumers."
Just as important, the Wall Street Journal emphasized that HR 1161 runs contrary to the very reason for enacting the U.S. Constitution more than 220 years ago. They write:
"The wholesalers and their friends in Congress argue that [H.R. 1161] promotes state sovereignty and limits Congressional abuse of the Commerce Clause. We might remind them that the original purpose of that clause was to stop states from enacting protectionist laws. The very reason James Madison called the Constitutional Convention was to eliminate interstate trade barriers that were balkanizing the union."
---
How To Take Action Against HR 1161
How can you take action now to help stop H.R. 1161? There are a number of way, each of which will only take seconds to carry out and that will make a difference.
1. WRITE YOUR CONGRESSPERSON
Use the Free The Grapes email system to let your Congressional representative know you oppose H.R. 1161 and that you expect them to oppose it too.
2. JOIN THE STOP HR 1161 FACEBOOK COMMUNITY
At the StopHR1161 Facebook page you will get immediate updates on HR 1161 and find like-minded opponents of the bill. Please let your Facebook friends know about the StopHR1161 Facebook effort.
3. TAKE A QUICK POLL ON HR 1161
It will take you just seconds to use this important polling site to voice your opposition to H.R. 1161
4. FORWARD THIS EMAIL TO A FRIEND
STOP1161.org • SWRA • Sacramento, CA • twark@specialtywineretailers.org • .www.stop1161.org • 707-266-1449