By Michal Lev-Ram, CNNMoney.com contributing writer
September 16, 2009: 5:03 AM ET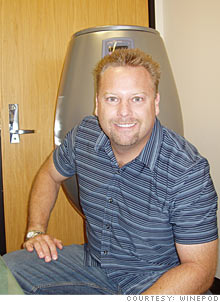 Winepod founder Greg Snell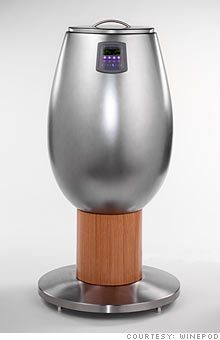 The original winepod, a $4,500 do-it-yourself winemaking machine.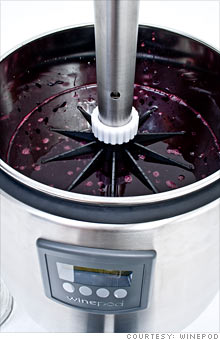 The Winepod at work
SAN FRANCISCO (CNNMoney.com) — Greg Snell's startup seemed to have it all — an innovative product, millions in venture capital from a top Silicon Valley firm, and a wait list of enthusiastic customers ready to shell out thousands of dollars. But after the recession hit, the former semiconductor industry executive found his fledgling company teetering on the verge of failure.
Buyers were no longer as eager to spend money on Snell's home winemaking machine, called the Winepod and priced at $4,500. Venture capital firms weren't willing to pony up for another, much-needed round of funding for the 12-person company.
Snell, like many business owners these days, is facing an unexpected challenge: Scaling down his entrepreneurial dream to fit the economic realities of running a company through a recession.
After trying to raise money for nearly five months, Snell looked at his options and decided to put the Winepod on hold. He halted operations at his four-year-old company, Winepod maker Provina, earlier this summer. That meant laying off all employees and closing down his office in San Jose, Calif. Snell now works from home.
Then he raided his own savings and got to work developing a smaller, cheaper version of his winemaking tool that he hopes will appeal to today's more budget-conscious consumers.
"The initial idea was to enable anyone to be a winemaker by creating a teaching system with everything necessary to make wine like a professional," says Snell. Although the miniature version of the Winepod will make smaller quantities of wine and will be made of cheaper materials (no sleek stainless steel this time around) than the original, Snell says the idea is the same — to allow anyone to crush, ferment and age their own grapes in an all-in-one machine. Unlike the pricey Winepod, the new iteration will sell for less than $500.
But recapturing the Winepod's glory could be challenging. When word leaked out about the 4-foot winemaking tool back in 2006, Snell got so many requests he had to create a waiting list for the do-it-yourself gadget.
Basement vintners
Customers like Barry Rosen, a Boston-based consultant who heard about the Winepod from his son, jumped at the chance to make wine in their basement, no experience necessary. Using the Winepod, Rosen produced more than 150 bottles of a ruby-red Cabernet Sauvignon. The self-proclaimed wine hobbyist says his experience with the all-in-one winemaker was smooth (with the minor exception of a small coolant leak, which Provina promptly fixed).
"At the onset I was concerned about ruining some very good, expensive grapes," says Rosen. "I was just hoping that it will be drinkable — and that I won't end up with some really nice-colored vinegar." The end result, seven months later, was a round and smooth wine with hints of berries and plum.
"It was an adventure — something new for me to try," Rosen says. "I found a hobby that I could enjoy and consume."
Provina didn't just generate hype among consumers — the startup also intrigued venture capital firm VantagePoint Venture Partners, which invested $4 million in the company. But after selling 150 Winepods in one year, Snell found out that, like wine, pricey consumer gadgets can be a fickle business in a down economy. With his initial funding gone and no further cash forthcoming, Snell halted production on new Winepods earlier this summer (though the company continues to provide support for existing customers).
The VCs may have lost faith in the Winepod's commercial potential, but Snell hasn't. In early September, Snell and one of the original Provina investors bought back the company's intellectual property, including the Winepod brand. The entrepreneur says he expects his cheaper, bare-bones Winepod to be out by next summer.
In the meantime, there are other ways for wine enthusiasts to get their name on a bottle. San Francisco-based Crushpad is one a growing number of companies that will custom-make wines for anyone willing to pay the price (anywhere from $18 to $38 per bottle, which includes everything from the grapes to bottling).
"Crushpad isn't your home," Noah Dorrance, marketing director at the Bay Area company, says of how his company's offerings stack up against the Winepod. "But most people don't have the time to check the barrels, taste, etc. — all of the things you need to do on a daily basis."
For connoisseurs who dream of an easy way to cook up their own blends at home (and who couldn't shell out a whopping $4,500 for the original Winepod while it was still on the market), they'll have to wait for Snell's upcoming machine. Like a fine wine, it may be a while before it's ready for prime time.