Burgers with Sun-Dried Tomato Sauce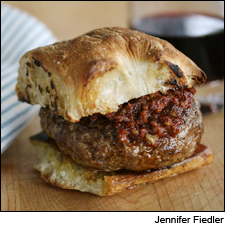 1 1/3 pound ground beef
8 1/2 ounces sundried tomatoes packed in oil
1/2 cup marinated red peppers
1/2 cup chopped walnuts
4 teaspoons balsamic vinegar
2 tablespoons extra-virgin olive oil
4 ciabatta buns
1. Divide the ground beef in four and form into patties. Season with salt and reserve.
2. Combine the next five ingredients in a blender and pulse until coarse. Reserve.
3. In a heavy-bottomed sauté pan, heat 2 tablespoons of cooking oil over medium high heat, add the patties and cook until done, around 4 minutes a side for medium-rare. Serve on the ciabatta buns with 2 tablespoons of sun-dried tomato sauce. Serves 4
Serve with Zinfandel.
Rose Pistola's Cioppino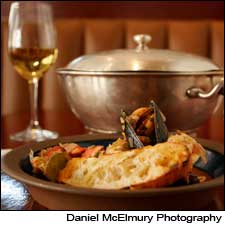 • 1/2 cup olive oil
• 1 1/2 cups Spanish onion, finely diced (reserve scraps for stock)
• 1/4 cup white onion, finely chopped and rinsed
• 1 tablespoon leeks, chopped
• 2 branches marjoram
• 1 bay leaf
• 1 clove garlic, minced
• 1/4 cup parsley, chopped
• 1 tablespoon harissa
• 1 tablespoon anchovy fillets, chopped
• 1/2 Dungeness crab cut into serving size pieces, along with its fat and any juices
• 5-ounce rockfish fillet
• 1/2 cup crisp, dry white wine such as Sauvignon Blanc or Albariño
• 2 cups pasta water
• 1 cup tomato sauce
• 1/2 cup squid, cleaned
• 8 mussels, cleaned
• 1/4 cup rock shrimp
Step 1: In a small stainless, high-sided saucepan, heat the oil over high heat. Add onion, leek, marjoram, bay leaf and sauté until fragrant. Add garlic, parsley, harissa and anchovy and stir. Add crab and rockfish filet and stir until rockfish turns opaque and begins to break up.
Step 2: Keeping heat high, add wine and reduce slightly. Add pasta water and tomato sauce and boil. Taste for seasoning and add mussels, squid, rock shrimp and a healthy drizzle of olive oil. Boil until mussels open and serve in a warm tureen. Serves 2.
Serve with Italian Red or White
Faidley Seafood's Crab Cakes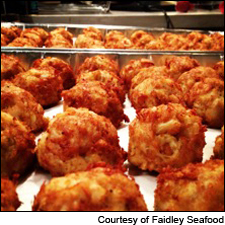 • 1/2 cup mayonnaise
• 1 large egg, beaten
• 1 tablespoon Dijon-style mustard
• 1/2 teaspoon Tabasco sauce
• 1 tablespoon Worcestershire sauce
• 1 pound fresh lump Chesapeake blue crabmeat, drained
• 1 cup crushed saltine crackers
• 1 quart vegetable oil
• Tartar Sauce (see recipe below)
Step 1: In a medium-size bowl, mix together mayonnaise, egg, mustard, Tabasco sauce and Worcestershire sauce and let rest for a few minutes. Fold crabmeat and cracker crumbs into the mixture, then form into eight patties or balls. Place the patties on a wax paper-lined tray, cover with a cloth or paper towel and refrigerate for 1 hour.
Step 2: In a large skillet, heat the oil to medium-high heat and fry crab cakes in batches for about 3 to 4 minutes per side, until golden brown. Serve with Tartar Sauce. Makes 8 crab cakes.
Faidley Seafood's Tartar Sauce
• 1 cup mayonnaise
• 1/2 cup dill pickles, finely chopped
• 1/4 cup onion, minced
• 2 tablespoons parsley, finely chopped
• 1 tablespoon pickle juice
Mix ingredients in a small bowl and chill for at least 1 hour.
Serve with Chardonnay.