westerncarriers.com/collectors
joel@westerncarriers.com
800.631.7776 x.7243
Based in the New York City metro area,
Western Carriers is a national provider of
fine wine storage and temperature-controlled
transportation services to private collectors,
auction houses, restaurants, retailers,
educational wine groups, and corporations.

FineWineCollector.com
finewinecollector.com • 408.370.6700
FineWineCollector.com purchases and sells the finest vintage Bordeaux and California cult wines. We offer personal service and have
an inventory of fine wine at great prices that few can rival. Established in 2002 in California and shipping nationwide, we only sell wines that have been properly stored for their entire lifetime. Visit our website at www.finewinecollector.com
to see our inventory in real-time or call Edward at 408-370-6700.

Join Luxury Italian Tours on its wine, wellness,
culinary and cultural small group tours of Italy. Or,
have a trip designed especially for you. They will
provide a glimpse of Italy that you will treasure
for a lifetime. Experience the ultimate luxury of
Italy. Andiamo!

Info@MorrellWineAuctions.com • 212.307.4200
Morrell Fine Wine Auctions – New York's first wine auctioneer, now in our third decade.
Next Sale: September 17th, 2014. We are now accepting consignments for our Fall 2014 auctions. Submit your list today for a free appraisal. Deadline for receiving wine for September sale is July 31st.

cawineclub.com• 800.777.4443
The cure for the common gift! Give the Moms, Dads,
Grads and Newlyweds on your gift list a virtual tour
of California's artisan wineries. Each month brings a
different winery, two of its finest award-winning wines,
and Uncorked®, our guide to the featured winery. Every
wine is 100% guaranteed to be delicious. Send as many
gift months as you wish.
Since 1990, it has been our pleasure to feature handcrafted
small-batch premium wines.
Void where prohibited.

TheBordeauxWineExperience.com • BXWINEX.com
Your travel specialist for fun wine and culinary vacations in Bordeaux. Make your wine lovers dream come true! Visit famous chateaux and savour Grand Cru wines while enjoying fabulous meals. Stay at a private 18th century chateau and experience France like an insider.
For fun-filled Bordeaux Wine Tours and Cooking vacations visit: BXWINEX.com

South African Winemakers Guild
Southafricanwinemakersguild. com/charter
877.659.7343 • fax: 707.205.1527
Take a South African wine adventure with the South
African Winemakers Guild, Your direct connection to the winemakers of South Africa.
You'll taste the varietals that South Africa has become
famous for such as Pinotage and Chenin Blanc as well
as the world classic varietals such as Chardonnay,
Cabernet Sauvignon, Pinot Noir and more.
Each month you'll also receive our informative newsletter
with details about the featured winery, the family that
produces the wines and special reorder offers that can
save you up to 55%.
Sign up to take advantage of our Charter Subscriber
Offer and save 50%…
www. southafricanwinemakersguild. com/charter

Klhip.com • 888.482.1795 • patented
The ultimate gift-purchase yours online! Breakthrough design is a balance of
improved control, increased leverage, world-class manufacturing and surgical
grade stainless steel. A nail clipper you'll look forward to using!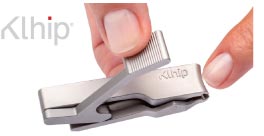 TravelwithWine.com • 866.272.8005
Vin-Air wine carriers take the hassle out of travel by providing maximum protection for your finest wine. Each case is built to meet the rigorous demands of air travel. You will breathe easy knowing that your wine will arrive at its destination safe and
sound, ready to enjoy.
Copyright © 2014Wine Spectator. All rights reserved.
387 Park Avenue South
New York, NY 10016