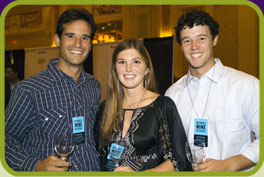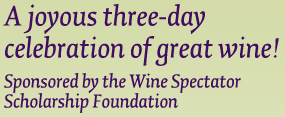 The New World Wine Experience is a three-day celebration of great wines. Only at a Wine Experience can you taste the world's best wines guided by the estates' owners and winemakers. You'll enjoy outstanding vintages, rare wines from the producers' cellars and top-scoring wines from around the world.
We've planned a weekend program that will engage all your senses while adding to your wine knowledge. Our goal is to offer a program that will be educational to both the novice and wine expert.
Your complete package registration fee includes:
• Friday and Saturday daytime international sit-down tastings—top wines from the world's top wine producers.
• Thursday and Friday evening Grand Tastings featuring top-rated New World wines from California, Oregon, Washington, Australia, New Zealand, South Africa, Argentina, Chile and beyond.
• Friday and Saturday food and wine seated lunches.
• Saturday evening Grand Award Banquet—a lavish dinner with special wines and star entertainment.
home | program | grand tastings | agenda | hotel info | order form