Special Offer Through July 30th
We've assembled this special 6-pack of refreshing white wines to help you beat the heat. Perfect for sipping by the pool or pairing with your favorite salads, seafoods and grilled meats, this summer sampler is sure to hit the spot when temperatures soar.
Enjoy two bottles each of these elegant whites:
2009 Intatto, Unoaked Chardonnay, Sonoma County – PRE–RELEASE
An Italian word meaning "untouched," the name Intatto perfectly describes this Sonoma County Chardonnay fermented completely in stainless steel. The result is a clean, crisp, unoaked wine, with minerality and fresh aromas of grapefruit and lychee.
2009 Sauvignon Blanc, Sonoma County – NEW RELEASE
True to the varietal this Sauvignon Blanc displays a bright fruit-forward style. Complementary notes of pineapple, melon and grass create a solid backbone of natural crisp acidity, ending in a long clean finish. An ideal accompaniment to seafood, spicy Thai dishes and summer salads.
2007 Chardonnay, Behler, Sonoma County – CLUB FAVORITE
Barrel fermented in new oak for nine months, this luscious Chardonnay is always a crowd pleaser and wine club favorite. Rich and buttery with fully concentrated fruit flavors and a bouquet of tropical fruits, new oak and vanilla.
Retail Price: $134
Special: $112, Club Members: $99.
Phone Orders Only! Call: (800) 650-5437
Offer ends 7/30/10. Shipping & tax not included. Shipping availability varies by state – please refer to additional shipping information below.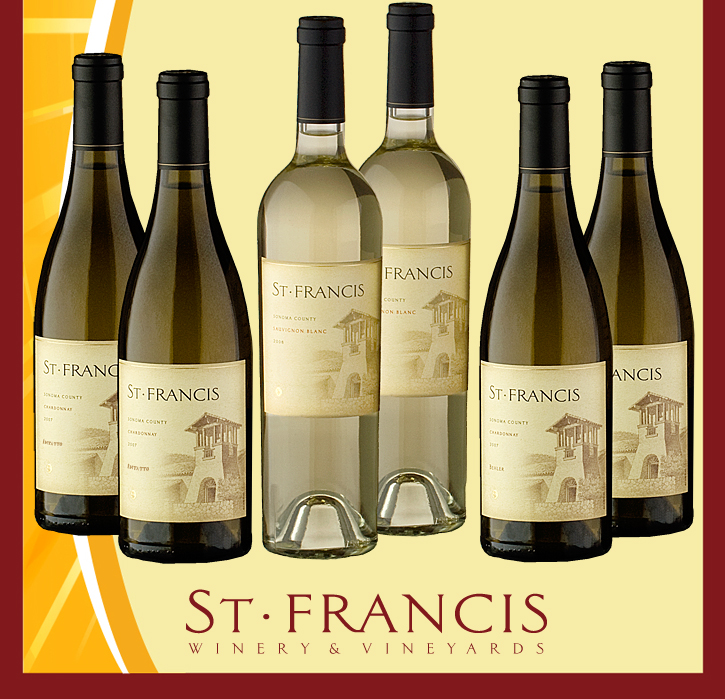 St. Francis Winery can currently ship wine directly to the following states:
AK*, CA, CO, CT, DC, FL*, GA, HI, IA, ID, IL,KS, LA, MI, MN, MO, NC, NE, NH, NM, ND, NV, NY, OR, SC, TN*, TX, VA, VT, WA, WI, WV, WY.
*Dry Counties in these states. Call for details.

events | wine club | recipes | winery | visitors center | directions | facebook
WA State Permit # 082790